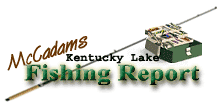 Brought to you by: Fishtale Lodge
Steve McCadams'
Kentucky Lake Fishing Report for:
April 11th, 2003
CRAPPIE SPAWN SHOULD RESUME SOON
(ANGLERS BATTLE COLD WEATHER)
This week's fishing scene on Kentucky Lake has had all types of weather confronting anglers. From warm sunshine and shirtsleeves to sleet and snow, the unstable spring weather has shown many faces.
Despite high winds and cold fronts, crappie and bass fishing have held up well with some good stringers showing up.
Crappie have attempted to spawn this past week but about the time surface temperatures crossed the 62-degree threshold along came a bitter cold front where north winds sent the thermometer on a downward blitz.
Monday saw warm sunshine and calm winds for the first time in over a week but by Tuesday, temperatures fell from 72 to 50 degrees. Then, on Tuesday the high reached a mere 35 degrees with wind chills well below freezing.
Surface temperatures were 62 degrees by Monday afternoon but had dropped to 56 by Wednesday night.
Crappie continued to bite good this week as the strong urge to initiate the spawn seemed to defy the drastic weather changes. Depths of 4 to 10 feet were giving up some hefty stringers of slabs.
A lot of fish were also coming from the 10 to 14 foot zones out on the Big Sandy where flats with submerged stump fields were holding a lot of fish still in a prespawn pattern.
Anglers in the upper end of Big Sandy near New Hope and Country Junction were finding fish in shallow structure. Depths of two to four feet were producing there while deeper areas in West Sandy and down in the Paris Landing area seemed to be the norm.
Kentucky Lake has been rising all week with a lot of debris floating. The reservoir is somewhat ahead of schedule as to TVA's curve for filling.
Observed lake elevation at Kentucky Dam was expected to be 358.1 by this weekend. Similar readings were expected upstream at New Johnsonville.
Normally, the reservoir does not reach these stages until later in April so levels are couple of feet above normal for this period of the month.
Water color was clearing in the main lake but high winds and some runoff early this week from heavy rains had created some stained water in the backs of bays and in the upper Big Sandy embayment.
What have this week's cold fronts done to the crappie spawn? It appears the fish backed off by midweek and retreated to slightly deeper areas as they await warming trends. If sunshine returns this weekend look for spawning phases to return in full swing by early next week as the fish are ready.
Several large females were taken this week but the vast majority was still sporting eggs. Male crappie have their deep purple appearance and continue to move into shallow structure and along rock banks.
Anglers are finding a variety of techniques working well. Vertical jig presentations over stakebeds and brushpiles are working, along with some casting of grubs on light spinning tackle.
At the same time the slow trolling patterns of spider rigging and pulling multipole rigs are working too, not to mention those boats, which are just drifting with the wind and catching fish.
The highlight of the week in the crappie department has been the trophy catch by Mike Taylor of Union City (see related story). His huge crappie tipped the scales at Pat Mayer's grocery to the tune of 3 pounds, 14 and a half ounces! It knocked out the 3.46 pound slab taken a couple of weeks ago in the big fish contest there and it's the largest crappie taken here in decades.
Bass anglers are working the big rock points with crankbaits and having success. However, action has improved this week around shallow logs and structure thanks to the rising lake levels.
Spinnerbaits are working in the shallow structure, along with a variety of jerk baits and tube jigs. And, jig and pig combos are producing as well.
Look for an improvement in shallow water bass action this next week as many shallow grassbeds and crappie beds now have enough water around them to attract bass.
Caroline rigged worms and lizards were accounting for a few fish too as anglers work sloping gravel points and mudflats adjacent to deep water that were near the mouths of big bays.
With the rising lake levels and a return to warm weather, bass anglers will see a multitude of patterns develop on Kentucky Lake next week.
For The Lake Barkley Report
Click Here
For Other Kentucky Lake Fishing Reports
Click Here
Steve McCadams
is a professional hunting and fishing guide here in the Paris Landing area and host of The Outdoor Channel's television series IN-PURSUIT.