IS IT A LAKE RECORD?
(VETERAN CRAPPIE ANGLERS SAY IT COULD BE)
by Steve McCadams

Most local crappie fishermen are still buzzing about the huge crappie taken back in late March. With a weight of 3.46 pounds it was---at that time---the largest one heard about in years.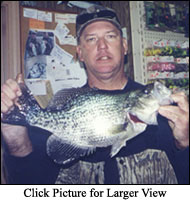 Things have changed.
Mike Taylor of Union City is now the man. While fishing in the Big Sandy last Monday and slow trolling jigs near the power lines at Mansard Island, he got the crappie bite of his life.
How big you ask? When he weighed the slab crappie Mayer's Grocery it took a minute for both Taylor and the scales to quit jumping. Then, when the moment of truth came the reading was a whopping three pounds, 14 1/2 ounces! The big female white crappie measured 19 ¼ inches long.
"You could have heard me yell all over the lake," said Taylor, who has been fishing the area for some 25 years. "I couldn't believe it and at the time I had two other fish on some lines but I don't know what happened to them. I was so excited I just took off to go weigh it!"
Taylor immediately weighed the fish on some digital scales he happen to have in the boat. It was right there at the four pound mark but once the shaking settled down the scales were showing three pounds, fourteen ounces.
"I wasn't sure if the scales in my boat were accurate or not so I headed straight to Mayer's Grocery to weigh it there," continued Taylor. "I have a cabin near there and buy most of my tackle there so I knew she had a big fish contest going too."
To get an accurate weight on fish, most state or associations require it to be weighed on scales that are certified for trade, such as meat scales at a grocery that are checked by the state department of weights and measures.
"Been waiting 25 years for one like this," said Taylor, who credited his catch to an orange and chartreuse tube skirted jig slipped on a Road Runner style leadhead spinner.
"It was a pretty day for a change and I had caught 21-fish so far that day when the big slab hit. It was in 11-feet of water near the power lines and I was slow trolling several rigs at the time."
Needless to say, Taylor took the top spot in Mayer's Grocery's big crappie contest, knocking out Ken Riddick of Dyersburg who landed the 3.46 pounder a few weeks ago. Not many anglers thought Riddick would ever have to worry about someone topping his hefty catch but here on Kentucky Lake amazing things can happen.
There's a spot on Taylor's wall where he plans to display the trophy catch as he headed directly to the Bondurant Taxidermy in Union City once the weight was verified. Until that day Taylor's biggest crappie had been a two-pound, fourteen-ounce slab.
Is it a lake record? It's hard to say as records are kept by TWRA on the statewide level. Since two-thirds of Kentucky Lake is in Tennessee and the other portion lies in Kentucky, there has never really been a way to establish lake records on fish.
The lake has been here a long time and stories of yesteryear now surface about this or that big crappie. But this fish was verified whereas those of yesteryear sometimes swell with time.
And, for those of you who don't know, the Tennessee state record white crappie is 5 pounds, 1 ounce! Records on file indicate it was taken many years ago in a farm pond.
The world record white crappie, taken by Fred Brice of Memphis, came from Lake Enid Mississippi and barely edge out Tennessee at 5 pounds, 2 ounces.
While the state and world records have a high mark, it doesn't diminish Taylor's catch one bit as he achieved what thousands of anglers have never done (or will ever do). He landed a crappie that knocked the breath out of four pounds!
Veteran crappie angler and guide Gordon Taylor said it was the biggest he had ever heard about in his decades of fishing on the lake. Taylor said his career mark was a two-pound, fourteen-ounce slab.
Guide Jim Perry agreed that it was the largest he had every heard about in his 40-years around the lake.
The same goes for me as I've turned the page on 30-years as a guide here and been fortunate to have thousands of crappie come across the gunnels of my boat. Only two three-pound fish have made it to my cooler since 1973.
I'm in the process of running down some stories about big crappie from years passed. If you know about any just drop me a line-----not about the big one that got away but just the ones that were caught----and I'll check it out.
Kentucky Lake crappie anglers have had a good spring and the hefty stringers continue to come in on a regular basis. After all these years it's still somewhat surprising as to the lake's ability to consistently produce the quality and quantity of crappie.
Maybe that's why we're labeled the "Crappie Capital".
Mike Taylor's slab crappie that was on the threshold of the four-pound mark proved the lake will continue to live up to its reputation year after year.
A tip of the hat to Mike and his big fish.
Is there really a four pound crappie swimming out there somewhere? Time will tell.
Steve McCadams
is a professional hunting and fishing guide here in the Paris Landing area and host of The Outdoor Channel's television series IN-PURSUIT.