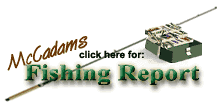 Brought to you by: Fishtale Lodge
Report for June 1st, 2001
Fishing this week continues to hold up for several species such as crappie, bass, bluegill and catfish. A cool spell throughout most of the Memorial Day weekend made it feel like fall had arrived. Some windy days made it tough on anglers and boaters but stable conditions have returned and fishing has improved.

Presently, surface temperatures in the Paris Landing area are in the 73 to 75 degree range and will likely warm a few degrees throughout the week. Lake elevation is in the 358.9 range and had been falling slowly.

Crappie have been hitting good. The cloudy days have helped the fish activity in deeper brushpiles and stakebeds in such depth ranges as 13 to 15 feet.

Activity has also improved in the main lake ledges and dropoffs around the 15 to 20 foot zones where structure is found.

Live minnows continue to produce well. Dull colored jigs are also
working and seemed to be more enticing when tipped with a minnow.

Bass action has improved this week with some fish on secondary ledges and points while others are being taken around shallow buck bushes mixed with weedbeds. Also, some fish are being taken on main river islands where submerged grassbeds or blowdown trees are found.

The key seems to be finding the schools of pin minnows. Some stained water can be found on the Tennessee River islands but creeks are clear. The upper Bog Sandy basin is also harboring clear water in shallow coves.

Some bass are hitting worms and lizards tossed around the visible cover. Spinnerbaits are working too, along with some topwater such as buzzbaits and jerk baits. Floating worms and flukes have produced too.

Carolina rigged worms are still producing as anglers work the ledges and sloping points. A few smallmouth are showing up on the east side of the Tennessee River as anglers work jigs along rock bluffs and ledges.

Bluegill are on the backside of spawning but still hitting crickets and redworms around shallow bays and out from bushes and grassbeds.

Catfish are fair this week and continue to move out away from shoreline rock bluffs where they spawned a few weeks earlier. Nightcrawlers are still the bait of choice.

Sauger and white bass are still somewhat scattered but showing up in the creel of anglers. Some trolling is going on with moderate success as there's still mostly small sauger for the taking.

Look for crappie and bass action to hold up this next week. June is a good month on Kentucky Lake so don't overlook the good fishing time ahead.

For Previous Fishing Reports
Click Here

Steve McCadams
is a professional hunting and fishing guide here in the Paris Landing area and host of The Outdoor Channel's television series IN-PURSUIT.