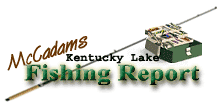 Brought to you by: Fishtale Lodge
Steve McCadams'
Kentucky Lake Fishing Report for:
January 8th, 2003
Fishing this week on Kentucky Lake has been relatively slow for most crappie anglers but there have been some scattered fish taken. Several warm days earlier in the week had calm winds in the mornings and that caused the fishing fever to rise for a few winter anglers.
Observed lake elevation in the New Johnsonville area is predicted by TVA to be 354.1 this weekend, which is the lowest reading in several weeks. Thatís on a couple of inches away from the low ebb of winter pool elevation, which means boaters need to be especially cautious as sandbars and stumps are subject to tackling the lower unit of your outboard.
At Kentucky Dam the predicted elevation this weekend will be 354.4.
Surface temperatures have been in the 38 to 44 degree range across much of the reservoir. Watercolor is relatively clear in most areas.
Some crappie were taken this week in manmade stake beds and brush piles in 9 to 13 foot zones in the Big Sandy embayment. Areas around Mansard Island were producing, as were a few shallow zones in West Sandy near Britton Ford.
Down near the mouth of Big Sandy and in the Paris Landing area anglers were finding crappie somewhat deeper along the main lake ledges in 18 to 24 foot zones. The deep sides of the sandbars where structure can be found is the typical winter pattern for crappie in the Paris Landing area while other bays and zones of the lake may see fish move into large bays or flats in shallow areas.
Live minnows were producing but jigs tipped with minnows were also working well. Such colors as chartreuse and purple, red and chartreuse, and some lime with red glitter skirts were appealing to finicky crappie.
A few smallmouth were being taken by some die-hard bass anglers who fishing finesse baits in the deep, clear coves on the east side of the lake. Small grubs and floating flies accounted for a few hefty fish.
Sauger fishermen are finding some action near the old Danville Bridge, New Johnsonville area and at the mouth of Duck River. Also action was improving in the Pickwick Dam tailrace.
A cold front is predicted this weekend across much of the area that could curtail fishing for a few days. Meanwhile, wrap up good if you plan to brave the elements.

For The Lake Barkley Report
Click Here
For Other Kentucky Lake Fishing Reports
Click Here
Steve McCadams
is a professional hunting and fishing guide here in the Paris Landing area and host of The Outdoor Channel's television series IN-PURSUIT.