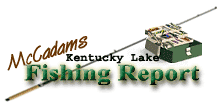 Brought to you by: Fishtale Lodge
Steve McCadams'
Kentucky Lake Fishing Report for:
January 3rd, 2003
Winter fishing has been fair this past week for some crappie anglers but others have had tough luck and finding only a few scattered fish.
Some success stories have come from anglers still working the deep sides of main lake ledges in the 18 to 24 foot zones. Slowly stalking the stumps and brush on the deep side of the sandbars has produced some decent crappie as the lake has been falling slowly all week, a situation that usually means crappie will pull back to the deeper areas.
Observed lake elevation in the New Johnsonville area is predicted to be 354.9 this weekend. At Kentucky Dam TVA reported readings of 354.7 in the forecast. Kentucky Lake has been falling slowly all week so there's a little current in the main river.
Surface temperatures are in the 35 to 39 degree range. Watercolor has been relatively clear in the Tennessee River with only a little stain in portions of the Big Sandy, although the West Sandy and areas near Mansard Island has a little dingy water in places.
Live minnows have been producing some crappie as have some dull colored jigs in the purple and chartreuse combos fished on unpainted leadheads.
Sauger fishermen are having some luck upstream near the old Danville bridge, New Johnsonville, and at the mouth of Duck River. The current has been good for the sauger action lately too.

For The Lake Barkley Report
Click Here
For Other Kentucky Lake Fishing Reports
Click Here
Steve McCadams
is a professional hunting and fishing guide here in the Paris Landing area and host of The Outdoor Channel's television series IN-PURSUIT.