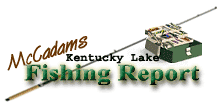 Brought to you by: Fishtale Lodge
Steve McCadams'
Kentucky Lake Fishing Report for:
January 31st, 2003
Kentucky Lakeís fishing scene has been a victim of cold weather the last week or two. Ice dominated the picture in many areas where boat ramps were frozen in. Many access areas such as Eagle Creek, Paris Landing State Park, Springville pumphouse, Lick Creek, New Hope, Mansard Island, and others looked like a glacier had descended.
Several large bays were frozen over all the way out to the main river. The severe weather curtailed fishing activity in more ways than one as bone chilling winds sent a clear signal to most anglers.
Things are improving, however, as warmer weather is predicted for the weekend. Anglers may have a good week coming up as moderate temperatures return to the Kentucky Lake area.
Meanwhile, there has been another shad kill across much of the area, a normal occurrence when quick cold fronts arrive and drop surface temperatures abruptly. That often means tough fishing for a few days as the fish have an abundant food supply thatís easily accessible.
Lake levels have been below winter pool elevation this past week. Observed readings in the New Johnsonville were as low as 353.6 for a few days. Thatís several inches below the winter pool elevation of 354.
The lake was rising slowly at midweek. Still, boaters should be extremely cautious this time of year.
Surface temperatures were in the 33 to 35 degree range over much of the area. Water conditions are clear.
Look for fishing conditions to improve this weekend and into next week as anglers return to the main lake areas in search of crappie. The fish are likely residing in their winter venues of 18 to 25 foot zones in the Paris Landing area.
In the upper portion of Big Sandy expect fish to be not quite as deep.
Sauger activity has been slow but could also improve soon in the Danville bridge area, New Johnsonville, and mouth of Duck River.

For The Lake Barkley Report
Click Here
For Other Kentucky Lake Fishing Reports
Click Here
Steve McCadams
is a professional hunting and fishing guide here in the Paris Landing area and host of The Outdoor Channel's television series IN-PURSUIT.