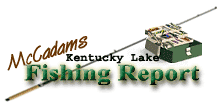 Brought to you by: Fishtale Lodge
Steve McCadams'
Kentucky Lake Fishing Report for:
September 8th, 2006
COOL WEATHER HELPS ANGLERS
How about this fall like weather weíve been having? The Labor Day period felt like fall arrived early and chased away the hot and humid conditions.
Both the fish and the fishermen benefited from the recent cool spell.
Bass and crappie action showed improvement this week as the cloudy conditions and cooler surface temperatures seemed to stimulate the bite, especially in shallow areas.
Surface temperatures responded to the cool nights and are now back to the upper 70ís after spending several weeks in the mid to upper 80ís. At midweek readings were starting out in the 77 degree range and climbing to 79 on up in the day.
Water color remains clear throughout most of the reservoir.
Observed lake elevation was 356 at Kentucky Dam and slightly lower in the 355.9 range at New Johnsonville. Thatís a few inches lower than last week at this time. Watch for TVA to continue its slow drawdown curve in the days ahead.
Increasing amounts of aquatic vegetation are showing up along the Tennessee River where shallow flats, island rims, and the back of sloping bays are exposing lots of cover for bass anglers.
From pond weed, spiny leaf naiad, and coon tail moss to some Eurasian water milfoil and lilies, an abundance of aquatic plants awaits anglers looking for shallow bas patterns. Minnows are really relating to the grass beds that offer refuge and a shady canopy on bright, sunny days.
Several fish have been taken in that type habitat lately as anglers toss floating flukes, spinnerbaits, buzzbaits and topwater jerk baits. Texas rigged worms and shallow running crankbaits have also worked around the outside grass where pockets exist as the water gets deeper.
Some of the grass is matted, offering a target for anglers who might want to fish a floating mouse, rat, or frog over the carpet of cover.
Other patterns such as shad colored crankbaits around gravel points and roadbeds are producing too. Watch for increased action from those early morning and late afternoon gravel banks and the shad move in and feast during lowlight conditions when midge hatches are underway.
Rebelís Pop-R and Stormís Chugg Bug are two popular surface baits to consider. The topwater bite will likely improve this week thanks to the cooler surface temperatures that will do doubt bring more bass to shallow venues.
Open water ledges are still producing fish as Carolina rigged worms, big crankbaits, and Texas rigged worms are working as are jig and pig combos. Some of the larger fish are still out there off the shoreline at this time but water for more movement to shallow depths as cooler conditions enter the picture.
Crappie action has improved this week and more fish appear to be moving from deep summer hideouts toward midrange structure. Depths of 9 to 12 feet were giving up a lot of fish this week.
Still, the deeper drop-offs will continue to produce some fish for several weeks as it seems some fish linger there at all times. Those deep stumps and brush piles in 15 to 20 foot depths merit a try now and then.
Watch for a lot of action in the weeks ahead as crappie have their fall transition period and taken on a more aggressive bite. Expect to find a lot of size variations together in the same spot but you can have fun culling the small ones when a big one bites now and then.
Jigs are working good with some white and chartreuse variations producing. Live minnows continue to produce as well.
Fall crappie fishing has gotten a bit of a head start thanks to the recent cool spell and so should you!
Catfish action has been mediocre with some improvement now that current has returned to the main river channel.
White bass are still hard to locate on a consistent basis. Very few scattered jumps have been reported. It has not been a good summer for white bass enthusiasts who used to partake of fast action during the doldrums days of summer. Very few anglers will argue that white bass numbers have declined dramatically in Kentucky Lake over the last several years.
For The Lake Barkley Report
Click Here
Also check out our past:
Kentucky Lake Fishing Reports
Steve McCadams
Steve McCadams is one of the nation's best known Crappie Fishermen and a full time resident of Paris, Tennessee. Steve is also a professional hunting and fishing guide here in the Paris Landing area.