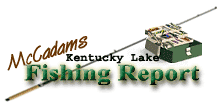 Brought to you by: Fishtale Lodge
Steve McCadams'
Kentucky Lake Fishing Report for:
September 7th, 2007
ANGLERS GET REPRIEVE…COOL CONDITIONS AND RAIN OVERDUE
Anglers are finally getting a reprieve from the hot and dry summer as rain and cooler temperatures entered the picture this week here in the Paris Landing area of Kentucky Lake.
Both bass and crappie action should improve this week thanks to cloud cover and lower surface temperatures.
Present lake stages show the reservoir has fallen slightly since last week at this time. At Kentucky Dam the observed elevation is 356.4 while upstream at New Johnsonville steam plant readings are in the 356.1 range.
Current has been pretty rare lately and unpredictable as not much rain and runoff has been present. Predicted rains could see that change in the days ahead.
Surface temperatures were in the 87 to 90 degree range but will likely fall some going into the weekend as cooler nights are in the forecast. Water color remains clear in most areas.
Bass action has been best around grass beds where the abundance of aquatic vegetation has produced some fish on a variety of patterns such as spinnerbaits on the outside parameters where fragments of grass are in deeper water.
Some fish were taking chrome and blue colored Rattle Traps, along with Texas rigged worms in the red shad, black and blue, and black with red glitter, just to name a few.
Topwater patterns produced a few fish too as tossing jerk baits such as Rebel's Pop-R, Storm's Chug-bug, Rapala, and Zara Spook were fooling a few fish into striking.
The early morning and late afternoon hours were best for topwater action and some fish were hitting shad on gravel banks in lowlight conditions as well when midge hatches were underway, which attract baitfish to the shallow shorelines.
Some smallmouth were showing up but not on a consistent basis as a few anglers worked Carolina rigs, jig and pig combos, and finesse baits along long sloping sandbars near the main river and around bridge piers or rock bluffs.
Crappie have shown signs of improvement and will likely improve in the days and weeks ahead as the early fall bite can be good. The fish often show a surge in activity as cooler conditions enter the picture.
Watch for more fish to enter the midrange zone of 9 to 13 feet in the next week or two as more shad move up and bring the crappie with them.
A few fish were taken this week in the 18 to 22 foot zones on main lake ledges where anglers were using live minnows on bottom bumping rigs and working deep stumps and brush.
In manmade fish attractors such as stakebeds and brushpiles crappie were taking 1/16 to 1/32-ounce jigs tipped with Berkley power bait or live shiner minnows. Popular colors were red, white, or chartreuse leadheads with pearl or dull brown and black skirts.
Crappie action will continue to improve in the weeks ahead and the approaching fall pattern is usually overlooked and underrated by most anglers.
Catfishermen are hoping for current in the main river. Action has been slow for the last few weeks but the early fall action could improve if current returns as fish will respond dramatically.
It appears the dog days of summer are finally loosing some of their grip and anglers are ready for fall fishing patterns.
For The Lake Barkley Report
Click Here
Also check out our past:
Kentucky Lake Fishing Reports
Steve McCadams
Steve McCadams is one of the nation's best known Crappie Fishermen and a full time resident of Paris, Tennessee. Steve is also a professional hunting and fishing guide here in the Paris Landing area.