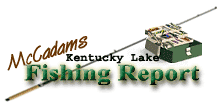 Brought to you by: Fishtale Lodge
Steve McCadams'
Kentucky Lake Fishing Report for:
September 5th, 2003
Anglers have enjoyed some cooler conditions this week as rain and cloud cover have dominated the fishing scene. Since Labor Day anglers have had good fishing conditions with overcast skies blocking some of the hot sun.
There has been an unusual amount of rain over the last few weeks here on Kentucky Lake at a time when itís normally hot and dry. But anglers are not complaining.
Observed lake elevation at Kentucky Dam this weekend is expected to be in the 357 range. New Johnsonville will also be in the 357 range.
Surface temperatures are in the 85 to 88 degree range. There is some stain due to the recent runoff from heavy rains. Dingy water is present in most of the upper ends of bays and creeks but the main lake is still relatively clear.
Crappie continue to hit good. Most of the fish were relating to the deep sides of main lake ledges this week with depths of 18 to 22 feet producing. However, during some of the cloudy days a few fish were residing in deep stake beds and brushpiles in the 13 to 15 foot zones.
Live minnows and jigs tipped with minnows were working best.
Bass action was good this week as anglers found increased activity on the main lake ledges. Some fish were taken in shallow areas around rock levees and roadbeds but most of the larger fish were holding on dropoffs.
Carolina rigged worms and lizards, along with big deep diving crankbaits were producing.
Some fish were taken on shallow running crankbaits and topwater around visible grassbeds.
Catfish action was good along the main river channel. Some anglers were finding action while jug fishing and trotlining. Seems the fish were suspended for many anglers who found success using nightcrawlers and liver.
White bass action is still slower than normal with very few jumps reported.
Look for slightly rising lake levels this next week due to all the rain here and upstream. Fall fishing patterns are about to get underway so watch for improvement in the bass and crappie department in the weeks ahead, especially in the shallow areas.
For The Lake Barkley Report
Click Here
Also check out our past:
Kentucky Lake Fishing Reports
Steve McCadams
Steve McCadams is one of the nation's best known Crappie fishermen and a full time resident of Paris Tennessee. Steve is also a professional hunting and fishing guide here in the Paris Landing area.