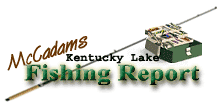 Brought to you by: Fishtale Lodge
Steve McCadams'
Kentucky Lake Fishing Report for:
September 3rd, 2004
This week's fishing report shows some improvement for crappie anglers while bass fishermen continue to find shallow, yet scattered, fish hitting.
Also holding up well is the catfish action. This week Kentucky Lake has had a slow but steady fall in lake levels. That continues to produce current for the main river channel and catfish action has responded well to the movement of shad.
Seems the current stirs up algae and plankton, which has a positive effect on the movement of baitfish. Not far behind are the catfish.
Observed lake elevation is expected to be 356.1 this weekend at Kentucky Dam. Upstream at New Johnsonville TVA predicts 355.8, which is a few inches lower.
Surface temperatures are similar to last week at this time with readings in the 79 to 82 degree range.
Watercolor is clear throughout most of the Paris Landing area of Kentucky Lake while some stain exists in the upper Big Sandy mudflats. The Tennessee River is relatively clear.
Lower lake levels continue to expose large areas of visible aquatic plants and the grassbeds have been giving up some bass, especially on the early morning and late afternoon hours. And, those cloudy days when scattered showers drift by has also helped the shallow water bite for bass.
Surface lures continue to score around the shallow vegetation. Anglers tossing floating worms, flukes, and other soft plastic baits are catching fish. Some buzzbait and chugger style stick baits are also working.
Spinnerbaits and Texas rigged worms are worth trying too. The grass is holding a lot of minnows and some of the shallow habitat around the islands with deeper water close by has produced this week.
Other patters of working exposed crappie beds up Big Sandy has also been worth the effort, as have boathouses and piers.
Some smallmouth are showing up on the main lake ledges but strikes there have been unpredictable lately. Also unpredictable have been the largemouth on ledges. A few fish are there and taking Carolina rigged lizards and big crankbaits but you have to fish several ledges before finding a fish on most days.
Crappie are showing signs of prefall patterns as they move into midrange structure. Depths of 9 to 13 feet have produced some fish this week. And, there's still some fish lingering on the main lake ledges in 16 to 18 foot depths where submerged brush and stumps are found.
Live minnows and jigs tipped with minnows are working. There's several small crappie hitting but you can cull and find a decent one mixed in there from time to time. Watch for crappie action to improve each week as cooler conditions stimulate movement to shallow structure.
Not much to report in the white bass department. Action there is still below average. Anglers will be interested to know that TWRA is proposing changes in the creel limit for next year in response to what appears to be a declining population. If adopted, the proposal would decrease the daily creel on white bass from 30 down to 15. That would not go into effect until March 1, 2005.
Officially, fall is less than three weeks away but the fishing patterns are already entering some fall phases.
For The Lake Barkley Report
Click Here
Also check out our past:
Kentucky Lake Fishing Reports
Steve McCadams
Steve McCadams is one of the nation's best known Crappie Fishermen and a full time resident of Paris, Tennessee. Steve is also a professional hunting and fishing guide here in the Paris Landing area.