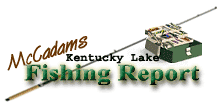 Brought to you by:





September 30, 2011

ANGLERS SAY GOODBYE TO SEPTEMBERÖPLENTY OF GOOD FISHING AHEAD


Kentucky Lake anglers are about to say goodbye to September but thereís plenty of good fishing ahead as autumn angling here is alive and well.

Fall officially arrived last week but bass and crappie anglers have been flirting with fall fishing patterns for several weeks now as some cooler weather back in mid-September set the stage. Mild conditions have dominated the weather picture this week but it appears a cool snap is in the forecast as the weekend approaches.

Anglers may have to endure a day or two of annoying north to northeast wind that will see temperatures drop but watch for a quick rebound by early next week. In the aftermath of the cool spell odds are some high pressure and high skies will enter the picture and bring a temporary hiatus to what has been good fall fishing.

Temperatures this week have been in the low 80ís most days but highs this weekend are expected to be some 15 degrees cooler with lows at night falling into the 40ís. However, early next week will see norm temps return.

Better dig out the hooded sweatshirts and overcoats for Saturday and Sunday based on local forecasts.

Surface temperatures this week have lingered in the 72 to 74 degree range. Expect a decline in the days ahead as cooler nights will have an influence. By early next week the water may very well fall into the upper 60ís.

Lake levels have been falling slowly this week but the reservoir has been somewhat above normal for the last two weeks. Normally, TVA continues a gradual drawdown from mid-summer until mid-fall but heavy rains to our south have seen a lot of water enter the Tennessee River watershed.

Projections for the weekend at both Kentucky Dam and New Johnsonville Steam Plant are expected to be in the 355.9 range. That reading is down several inches from last week at this time. Expect TVA to continue a slow drawdown until an elevation of 355 arrives at which time the agency will likely stabilize conditions.

Lower lake levels are part of TVAís curve to allow for more storage capacity during late fall and winter rains.

Water color is clear throughout Big Sandy and West Sandy. Most of the Tennessee River area is clear as well with only moderate stain in places where winds have whipped up shorelines.

Crappie fishing is holding up pretty good thanks to decent weather. Fall is known for its stability and while there have been a few windy days and some cool fronts that diminished activity, the overall report card for September shows good grades.

Fish were relating well to structure in the 10 to 14 foot depth zones this week. Although a few fish were taken in shallow depths the bulk of crappie have pulled out of shallow cover compared to last week at this time, a likely response to falling lake levels.

Watch for a few more fish to move back up and occupy some shallow cover in the middle or backs of bays by the middle of next week once lake levels stabilize or some rainy, cloudy days enter the picture. Cooler surface temps will also stimulate some movement into shallow structure.

Schools of threadfin shad are abundant lately as they roam on the surface and forage on plankton. A lot of baitfish have moved into shallow to midrange areas lately and that will continue to lure bass and crappie from deeper hideouts.

A few boats were working main lake ledges in depths of 15 to 18 feet but action there has been slow.

Most crappie are favoring small jigs in the 1/16 to 1/32-ounce size range. Tipping a jig with Berkley Power Bait has been enticing the most strikes while adding a minnow has worked at times too.

Even though some good numbers of crappie have been taken the bites have been finicky at times as the fish are holding tight to cover and preferring a slow presentation right smack dab in front of them. Popular color combinations have been black/chartreuse, white/chartreuse, black/red, and some clear skirts with sparkle.

Fall crappie fishing continues to pass below the radar of a lot of anglers as Iíve had some hefty catches lately while seeing very few boats on the lake. It sure is nice out there this time of year.

Bass action has been spotty with several smaller fish schooling and chasing shad at times around gravel banks and roadbeds. Some surface action took place this week and the bite has improved in early morning and late afternoon periods.

Shad colored crankbaits have been popular choices. Some deeper gravel points and sloping banks have been holding bass, especially if the wind pushes the baitfish back into some bays.

On calm days the baitfish have moved over shallow flats and bass have been busting the on the surface. Tossing Strike Kingís Red-eye shad, Bill Lewis Rattle Traps, and Bandit crankbaits have worked well.

While some shallow banks that were near deeper water have been producing bass there are still some fish relating to drop-offs on the main lake. Several anglers are still leaning on summer patterns and lure selections when fishing the main lake ledges.
Although a cool front by the weekend could deliver some northeast wind and falling temperatures that may have an adverse effect on fishing for a day or two, watch for nice fall conditions to rebound quickly. Cold fronts this time of the year are somewhat unusual and normally donít linger very long.

Also check out our past:
Kentucky Lake Fishing Reports

Steve McCadams is one of the nation's best known Crappie Fishermen and a full time resident of Paris, Tennessee. Steve is also a professional hunting and fishing guide here in the Paris Landing area.