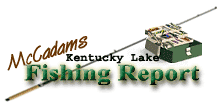 Brought to you by:




September 30, 2010

LOW LAKE LEVELS COMMAND BOATERíS ATTENTION

If youíve been waiting for nice fall weather to arrive before venturing out on the lake and trying out this autumn angling then wait no longer; nice conditions have arrived and await you.
Kentucky Lake anglers have been the beneficiary of nice weather this week as the season is living up to its reputation. A cool front descended last weekend and nice weather has lingered.
After a day or two of north winds that pestered fishermen with whitecaps in the open water, things settled down and earlier this week those jacket mornings and shirt sleeve afternoons returned.
Wind isnít usually a big factor in fall fishing but it has reared its ugly face two or three days this week, limiting the locations for anglers. Another cool snap and north wind may escort the weekend, according to the forecast.
Foggy mornings entered the picture for a day or two at midweek. Those light winds and warm sunny morning pushed the fog out quickly and allowed anglers to venture to their favorite fishing holes after digging out overcoats for that cool ride.
Low lake levels are getting the attention of most anglers right now as the reservoir is resting near winter pool. The low ebb is intimidating to many boaters and it should be.
This is not the time of year to take shortcuts over shallow flats. Even in the wide open areas far away from shore can be dangerous, especially in the Paris Landing area and at the mouth of Big Sandy River.
Iíve watched out of town bass boats throwing caution to the wind lately and darting at high speeds over very shallow areas where submerged stumps wait for lower units like a spider in its web.
Lake levels this week were in the 354.9 range at New Johnsonville. At Kentucky Dam elevation is in the 355.1 range. Thatís a few inches lower than last week at this time. Those levels mean there is some four feet less water now compared to late April.
That means boaters better pay close attention to channel markers.
Surface temps this week have responded to the cooler conditions and dropped down into the 72 to 75 degree range.
Water color remains clear over most of the reservoir with slight stain around main lake areas where wind has whipped up shallow shorelines. Very little rain has fallen in the region.
Shad have been more active the last few days and really moving toward shallow bays and shorelines. That should bring more bass and crappie to shallow zones in the days ahead.
Crappie fishing has been pretty good with most fish staying at midrange depths or near deep water. Thatís likely due to the gradual fall in lake elevation and bright sunny skies that have been stubborn to release the grip of high pressure.
Last week I found several crappie relating to structure in the 9 to 12 foot zone and an occasional stakebeds or brushpiles in 8 foot depths paying dividends at times. However, the last few days crappie appeared to fall back toward deeper zones.
After some slow starts in shallow beds and a stubborn northeast wind earlier in the week I fell back to structure in the 12 to 17 foot depths and found a warmer welcome from good size crappie. The baits of choice were dull colored jigs tipped with minnows.
A white leadhead and green body was popular as were unpainted leadheads sporting gold tube skirts with glitter. While a few fish were taken on just jigs the live minnow seemed to entice strikes from finicky crappie.
A few stringers were taken by boats working main lake ledges in the mouth of Big Sandy and up toward the power lines. Depths of 14 to 18 feet were giving up some scattered fish.
Watch for the shallow areas to improve in the days ahead as lake levels stabilize and some overdue cloud cover returns to the fishing scene. A rainy day or two would be a welcomed change.
Bass have been busting shad in the backs of bays and along gravel banks in the early morning and late afternoon hours. However, the topwater bite has been off lately, a likely scenario when high skies dominate.
Some fish were taking shad colored crankbaits such as Rapalaís Shad Rap worked slowly around rock points, roadbeds, and boathouses. Shallow running Bandit and Strike King crankbaits in the Tennessee shad, Root Beer, and chrome and blue have paid off as well.
Spinner baits toss around shallow stumps and visible crappie beds were accounting for a few strikes.
Ledge fishing is still popular as Carolina rigged worms and lizards are producing as are some big crankbaits. Hopping a jig and pig has been fair but not as good as Carolina and Texas rigged worms.
With shad now moving up those shallow bays or flats where wind pushes the baitfish around will offer some good action. Rattle Traps and swim baits will be productive.
Even with low lake levels there isnít much aquatic vegetation in the Paris Landing area but some is showing up in big bays on the east side of the lake and down south of New Johnsonville.
A few catfish were hitting around the Paris Landing Bridge piers this week and along the main river channel. The slow current helped catfishermen this week and the fall catfish bite is pretty good thus far.
Nightcrawlers continue to be the most popular choice of bait. Depths of 20 to 35 feet were giving up some nice ones.
After the north wind and cool snap enters the area this weekend things should settle down by early next week.

Also check out our past:
Kentucky Lake Fishing Reports

Steve McCadams is one of the nation's best known Crappie Fishermen and a full time resident of Paris, Tennessee. Steve is also a professional hunting and fishing guide here in the Paris Landing area.