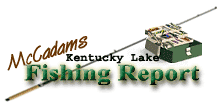 Brought to you by: Fishtale Lodge
Steve McCadams'
Kentucky Lake Fishing Report for:
September 30th, 2005
LAKE LEVELS AND TEMPERATURES FALLING…FISHING IMPROVING
Cooler conditions have entered the fishing scene. Anglers have been busy digging out the long sleeve shirts and jackets the last few days as fall has made its presence known.
Anglers can expect several changes in fishing conditions this weekend and into next week as falling surface temperatures and lower lake levels will combine to alter fishing patterns.
Surface temperatures earlier this week were in the 79 to 83 degree range. However, watch for a decline of several degrees in surface temperatures going into the weekend, as cool nights will have a great influence.
Lake levels have been falling all week. Observed elevation at Kentucky Dam will be 355.1 this weekend. Slightly lower readings of 355 are expected in the New Johnsonville and Paris Landing area.
Falling lake levels may pull a few fish out of shallow water for a few days but watch for bass and crappie action to rebound quickly in shallow venues thanks to the cooler surface temperatures.
Watercolor has been relatively clear in Big Sandy with some stain present on the Tennessee River.
Crappie action improved this past week with good numbers of fish being caught in 7 to 13 foot depths. A lot of fish are relating to structure in that depth zone.
An abundance of shad in that midrange depth is attracting good numbers of crappie that will likely remain there throughout the fall.
I've found fish hitting good this week on chartreuse, blue and white, and red and chartreuse combo colored skirts. Although some fish were taking a jig, it seemed to have more appeal when tipped with a minnow.
Expect to catch a lot of small fish that must be released but there's a few exceeding the 10-inch minimum length limit residing right there amongst them.
Some anglers are still finding fish on the main lake ledges too. Depth of 15 to 18 feet has produced in the deep areas where anglers are using bottom-bumping rigs armed with jigs and live minnows.
Bass are hitting good around the edges of grass beds and along rock points and gravel banks.
Some fish are chasing shad and hitting topwater too. And, there are even a few scattered jumps of whitebass showing up on shallow flats. Watch for the sea gulls and they'll show you where the action is.
Meanwhile, spinnerbaits are accounting for some good fish, as are Rattletraps, and Tennessee Shad colored crankbaits worked around sloping gravel points.
Some smallmouth have been running shad and busting the surface on flats near the main river channel.
There's some shad action along the rock banks in the early morning and late afternoon hours as the baitfish feed on midge hatches in lowlight conditions. Tossing a topwater lure of your choice is worth trying.
Carolina rigged worms and lizards are still working well off gravel points and some main lake ledges.
With lower lake levels on Kentucky Lake bass anglers can find a lot of shallow structure to fish with topwater, shallow running crankbaits, and spinnerbaits.
For The Lake Barkley Report
Click Here
Also check out our past:
Kentucky Lake Fishing Reports
Steve McCadams
Steve McCadams is one of the nation's best known Crappie Fishermen and a full time resident of Paris, Tennessee. Steve is also a professional hunting and fishing guide here in the Paris Landing area.