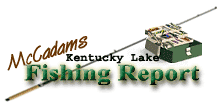 Brought to you by: Fishtale Lodge
Steve McCadams'
Kentucky Lake Fishing Report for:
September 29th, 2006
SEE-SAWING LAKE LEVELS CHALLENGE ANGLERS…STABILITY ON THE WAY
Kentucky Lake has seen some changes this week in lake levels in the aftermath of heavy rains. Last weekend's thunderstorms really drenched the area and runoff caused the reservoir to rise almost two feet in a short period of time.
Now anglers are seeing a quick drawdown as TVA pulls the plug and really spills water through Kentucky Dam. A lot of current is present in the Tennessee River and forecasted elevation going into the weekend will be 355 at Kentucky Dam and 355.2 upstream at New Johnsonville.
Those readings are down about two feet from earlier in the week. September is normally a stable month here as to weather and lake levels but fishermen have encountered a see-saw this week as to the up and down water conditions.
Anglers can expect to see the lower lake levels going into next week as TVA brings the reservoir back down to its winter drawdown curve, which creates more storage capacity for Kentucky Lake when heavy rains occur.
Surface temperatures are in the 71 to 74 degree range. Some dingy water has been present in a lot of bays and along the main river this week. The mouth of Big Sandy and up around the TVA power lines near Mansard Island remained relatively clear.
With falling lake levels underway watch for most of the dingy water to leave the shallow bays this next week.
Bass anglers have faced some stubborn bass this week as the bite has been sluggish. The slow down is likely due in part to the changing lake levels and thunderstorms. A high pressure earlier this week delivered several bluebird days too.
Grass beds were giving up some fish at midweek where anglers tossed Carolina rigs and Texas rigged worms on the outside of thick grass. Popular colors were green pumpkin pepper, June bug, and sand and pepper.
Although the topwater bite was off for a few days in the shallow grass and along gravel banks, watch for action to resume next week as cooler temperatures are in the forecast and lake levels will likely stabilize this weekend.
Some fish are still lingering on main lake ledges and on drop-offs inside big bays. Working jig and pig combos has produced a few strikes as have Carolina rigged lizards, and big crankbaits.
Slow rolling spinnerbaits on the outer edge of grass beds has also produced some fish as have rattle traps and shallow running crankbaits.
Shad have been showing up some on shallow sandbars where white bass and largemouth are running them but not much activity along the pea gravel shorelines this week as the topwater bite there has been off.
That could improve this next week as surface temperatures cool. Also, shad colored crankbaits around piers, boat houses, roadbeds, and big chunk rock will likely yield some strikes.
Crappie have been somewhat scattered this week in the midrange structure but appear to have backed off some into deeper water. After a couple of mediocre mornings in the 8 to 12 foot stakebeds and brushpiles I backed off to main lake ledges and worked the deep side of the drop-offs.
Action improved as we worked jigs and live minnows around deep stumps and brush residing in the 19 to 23 foot zone. Some pretty good ones were mixed in there too but why the fish backed off into deeper areas is somewhat puzzling.
Watch for action to continue in the deep areas for a few days but by early next week the cooler surface temperatures and stable lake levels could see crappie return to midrange depths.
Catfish action improved this week thanks to the increased current along the main river channel. Anglers were finding fish in the 20 to 35 foot zone.
For The Lake Barkley Report
Click Here
Also check out our past:
Kentucky Lake Fishing Reports
Steve McCadams
Steve McCadams is one of the nation's best known Crappie Fishermen and a full time resident of Paris, Tennessee. Steve is also a professional hunting and fishing guide here in the Paris Landing area.