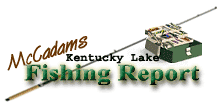 Brought to you by: Fishtale Lodge
Steve McCadams'
Kentucky Lake Fishing Report for:
September 28th, 2007
Fall fishing got a boost this week from some rainy days and cooler weather.
Both crappie and bass action has been good and the weatherman says cool to moderate temperatures will linger into next week.
Lake levels are down a few inches from last week as TVA continues its normal drawdown curve toward winter pool, creating more storage capacity in Kentucky Lake.
Observed elevation at Kentucky Dam is 355.6. Upstream at New Johnsonville Steam Plant the elevation was 355.5. TVA was predicting stable lake levels throughout the weekend.
Surface temperatures have cooled slightly since last week and should continue to fall the next few days as cooler nights and lower humidity are in the forecast. Readings were in the 75 to 78 degree range at midweek but will likely fall into the lower 70ís by the weekend.
Water color is clear throughout the main lake but a little stain is present in upper Big Sandy and the backs of a few bays on the west side of the reservoir. Most bays on the east side remain clear as they are gravel fed and a lot of aquatic vegetation is present which acts as a filter when dingy water enters the upper end of feeder creeks.
Action improved with week for crappie anglers as the fish seemed to bite good, showing up in good numbers and a variety of sizes.
No doubt the cloudy days helped as several fish moved up into 7 to 9 foot depths. I found good numbers of fish Wednesday in some areas that were unproductive earlier in the week when high skies and calm winds were present and fish were finicky.
Shad continue to roam the shallow and midrange areas and it appears there is an excellent forage base as threadfin are abundant.
There are a lot of crappie in and around the 10-inch minimum length limit but itís good to see some small fish mixed in with the keeper size. And, a few good fish in the one-pound plus category are showing up too but expect to cull several during each outing.
Main lake ledges are producing some fish too as the 15 foot depth zones were holding fish where brush and stumps were found near drop-offs.
Popular jig colors have been light yellow and brown, chartreuse variations, light blue with metal flake, and some black and chartreuse combos. Some days the fish have shown interest in solid pearl and sliver with metal flake.
Live minnows are also working well and tipping jigs with minnows will produce. You have to tolerate a few yellow bass and bluegill that are aggressive and sporting an attitude as they rob your bait now and then with that short, machine gun style strike.
Bass action is holding its own as the grass patterns continue to work well for fall fishermen using gold, willow leaf spinnerbaits, Texas rigged worms, and jerk baits such as flukes and slugo style worms.
A few fish were taking chatter baits and suspending jerk baits on the outside grasslines as well. Some topwater action was taking place in the lowlight conditions too.
Gravel banks and rock bluffs continue to give up some good fish too as crankbaits in shad and chartreuse and white variations have worked well. Shallow running Bandit and Strike King crankbaits have produced a lot of fish lately when worked slowly on roadbeds, rock points, and some rip-rap.
A few smallmouth were taking crankbaits and hair jigs worked around rock bluffs while boat houses and docks were producing some fish for anglers pitching crawfish and worms around shady areas.
Carolina rigged worms were still working too on sloping points near deep water as a few smallmouth and spotted bass were showing interest.
Shallow areas such as exposed crappie beds and logs should produce some fish in the weeks ahead as cooler conditions help the shallow bass bite.
For The Lake Barkley Report
Click Here
Also check out our past:
Kentucky Lake Fishing Reports
Steve McCadams
Steve McCadams is one of the nation's best known Crappie Fishermen and a full time resident of Paris, Tennessee. Steve is also a professional hunting and fishing guide here in the Paris Landing area.