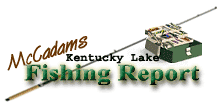 Brought to you by: Fishtale Lodge
Steve McCadams'
Kentucky Lake Fishing Report for:
September 26th, 2008
LOW LAKE LEVELS GREET BASSMASTER ANGLERS…WEIGH-IN SATURDAY AFTERNOON
Bassmaster tournament anglers are here on Kentucky Lake this week casting for cash as low lake levels enter the picture. For some negotiating the secondary channels or shortcuts behind islands or across open flats may be more of a challenge than finding fish.
Kentucky Lake fishermen are finding bass and crappie action holding up as fall officially entered the picture on Monday.
Crappie action showed some improvement at midweek and bass anglers are here testing the waters in the Bassmaster Central Division Open out of Paris Landing State Park. The weigh-in culminates Saturday afternoon.
It has been a week of light winds and above average temperatures as summer has been stubborn to release its grip.
Lake levels continue to fall slowly and have reached the low ebb of winter pool in many areas of the reservoir this week as no rain has entered the picture. Low water levels may well intimidate some nonresident anglers who will discover shallow water sand bars exist a long way from shore on this reservoir!
Presently, lake levels at Kentucky Dam are in the 354.7 range. Upstream at New Johnsonville the reservoir is even lower with readings in the 354.4 range.
Water color remains clear. Surface temperatures have risen slightly from last week at this time and are currently in the 76 to 80 degree range. Some cooler conditions are expected early next week.
Bassmaster tournament anglers are working the grassbeds all over the reservoir and finding lots of fish taking gold willow leaf spinnerbaits, Texas rigged worms, floating worms and some weedless frogs.
A few anglers were lying out from thick grass and tossing rattle traps and assorted jerk baits and some swim bait variations where schools of shad were attracting schooling bass.
Other attractions have been the drop-offs in both the main lake and big creeks. Carolina rigged worms, jig and pig combos, and those deep diving crankbaits have been popular in addition to big spinnerbaits and some large swimbaits. Tossing big Texas rigged worms are also popular.
Not many shad have been working the gravel banks as is usually the case on fall mornings and late afternoons but a few anglers are tossing crankbaits on gravel and roadbeds with success.
Crappie action has been fair but improving. The bright sunny days when stagnant winds were the norm has curtailed activity in the shallow stakebeds and brushpiles. Seems those shallow fish hit best when there has been cloud cover and a little chop on the water but this week several days saw high skies and no wind.
While a few good fish have been taken in the 7 to 11 foot zones it appears most of the fish have backed out toward deeper water or relating to structure that is close to deep water such as channel ledges or humps.
I found action slow in shallow beds the last two mornings but action was much improved on deep drop-offs in the main lake in depths of 13 to 17 feet around stumps and brush. Jigs and live minnows were working well.
Popular jig colors were black/chartreuse, black/white, and some dull white with clear sparkle skirts or light gray hair bodies. Live minnows have helped increase bites and tipping a jig with a minnow has been productive.
Watch for shallow action to resume if cloud cover and cooler weather enters the picture as lake levels have now pretty much bottomed out and will remain stable. Until that happens favoring structure near deep water will likely be the best choice.
A few white bass have been busting the surface on shallow flats. Not much to report from the catfish department as action there has been slow.
For The Lake Barkley Report
Click Here
Also check out our past:
Kentucky Lake Fishing Reports
Steve McCadams
Steve McCadams is one of the nation's best known Crappie Fishermen and a full time resident of Paris, Tennessee. Steve is also a professional hunting and fishing guide here in the Paris Landing area.