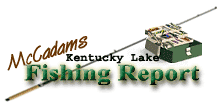 Brought to you by: Fishtale Lodge
Steve McCadams'
Kentucky Lake Fishing Report for:
September 24th, 2004
Fall officially arrived Wednesday and that means summer fishing patterns are about to loose their grip on crappie and bass.
Kentucky Lake has had a real flushing this past week as TVA has discharged a lot of water through the Tennessee River system in the aftermath of Hurricane Ivan. Heavy rains last week in the upper regions of the TVA valley required changes in the winter drawdown schedule.
Fortunately, Kentucky Lakeís elevation did not change that much as TVA really opened up the gates and allowed a lot of water to pass through Kentucky Dam and into the Ohio River and ultimately into the mighty Mississippi.
At midweek the current was still flowing pretty good as TVA was discharging some 151,000 cubic feet per second (cfs) through Kentucky Dam, which is laymenís terms is a lot of water.
Lake levels are expected to fall this weekend as TVA predicts a reading of 356.3 at New Johnsonville. Downstream at Kentucky Dam the forecasted elevation will be 355.8. Thatís several inches lower than readings taken at midweek.
Surface temperatures have cooled slightly since last week. Readings are now in the 76-78 degree range.
Watercolor remains stained in the Tennessee River as the current continues to move through the area, bringing dingy water to the main channel. However, most of the Big Sandy embayment remains clear.
Crappie fishing has been good this week in the Paris Landing and upper Big Sandy basin for some anglers. The fish seemed to pull back to deeper water this week, which is likely in response to the falling lake levels.
I found a few scattered fish in midrange stake beds and brushpiles last weekend but action was much better on main lake ledges and humps. Depths of 9 to 13 feet were producing only scattered fish while the main lake ledges were holding more fish in the 16 to 20 foot range.
Tightlining minnows on double-hook, bottom-bumping rigs were producing some nice stringers throughout the week. I found a lot of small black crappie but some dandy size ones were mixed in with them too.
Itís not unusual to catch a lot of small fish throughout the early fall so keep the measuring board handy and cull out the short fish. Sometimes you catch one or two small fish for every keeper but itís still good fishing and a lot of fun to feel something jerking on the line.
A lot of fish are right on the threshold of the 10-inch length limit. Thatís not all bad as it shows a pretty good year class coming on, especially for the winter and spring fishing season ahead.
Overall, fall crappie fishing appears to be shaping up for a good season so donít let this underrated time pass you by.
Bass fishermen are having mediocre luck with several veteran anglers having tough luck finding fish on a consistent basis. Many shallow water anglers are finding fish around grassbeds and visible crappie structures or gravel points. Yet the keeper-size fish have been hiding pretty well.
Even anglers who have worked the drop-offs have found only a scattered fish here and there. Some have continued to work Carolina rigged worms and lizards on midrange ledges with token success while others are still tossing crankbaits and jig and pig combos.
A few smallmouth have showed up but not as many as most anglers anticipated with the abundance of current. Normally, moving water will stimulate baitfish activity and trigger strikes yet high pressure has dominated this week where little or no cloud cover was present.
The high skies have likely hampered the shallow fish to some degree. Still, the beautiful weather and light winds have been great fishing conditions compared to last weekís rash of high winds.
Watch for bass action to improve this week around rocky points or bluffs. Crankbaits will likely produce as will a variety of topwater plugs once the cloudy days return and shad get active. And, better keep an eye on those grassbeds too.
The next few weeks are often kind to anglers in terms of weather, wind, and overall fishing patterns so donít let the good fall fishing pass you by.
For The Lake Barkley Report
Click Here
Also check out our past:
Kentucky Lake Fishing Reports
Steve McCadams
Steve McCadams is one of the nation's best known Crappie Fishermen and a full time resident of Paris, Tennessee. Steve is also a professional hunting and fishing guide here in the Paris Landing area.