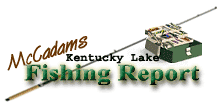 Brought to you by:



September 23, 2010

COOL SNAP APPROACHING…FALL WELCOMED BY ANGLERS

Kentucky Lake's fishing scene has been under the influence of hot weather this week but have you seen the fall forecast? Cooler conditions are indeed approaching and the days ahead should say goodbye to summer.

It appears anglers will be trading in the sunscreen for long sleeve shirts. After hot and humid conditions earlier this week no one is complaining. A few foggy mornings and brisk temps will be a welcomed change.

Despite daily temps that have been some 12 to 14 degrees above normal, fishermen have been catching as some nice stringers of catfish, crappie, and bass have been taken.

Crappie continue to hit and the deeper stakebeds and brushpiles have been giving up good stringers as the fish relate to structure in the 10 to 13 foot depth range. A few scattered fish were taken in 8 to 11 foot depths but had backed off the shallow stuff, a likely response to both hot weather and a bright sky where high pressure has not allowed any cloud cover.

Some fish were pulling back to deeper drop-offs at midweek where depths of 15 to 17 feet were holding fish. Watch for that to change next week as the cooler conditions may well stimulate movement back toward shallow venues.

Baits of choice have been jigs tipped with minnows. Popular color choices have been red/chartreuse, red-white, and black/chartreuse but some dull colors such as black or unpainted leadheads with dark, dull colored skirts have appealed as water color has been relatively clear in Big Sandy.

A little more stain in present on the Tennessee River portion around Paris Landing.

Surface temps responded to the hot weather and climbed back into the 80 to 83 degree range. That's a few degrees warmer than last week at this time but falling temps should help the overall fishing scenario by early next week.

Watch for a drop in surface temps by the middle of next as backwater areas may well fall back into the mid 70's once cool nights return.

Lake levels continue to fall slowly and are nearing the low ebb of winter pool on TVA's drawdown curve. Elevation was projected to be 355.4 this weekend at Kentucky Dam while upstream at New Johnsonville Steam Plant readings were even lower at 355.2.

Boaters are reminded to pay close attention to channel markers this time of year. Those shallow sandbars and submerged stumps are waiting for your outboard's lower unit.

Catfish were hitting on the edge of the river channel where slow current was working in favor of the bottom bumping anglers using mostly nightcrawlers for bait. A few dandies continue to come from beneath the Paris Landing Bridge area too where depths of 25 to 30 feet were giving up some nice ones around the piers.

Bass continue to hit good in a variety of patterns, although the recent hot weather and high skies had an adverse affect on shallow fish. Some hefty catches were still coming from main lake ledges where tossing a Carolina rigged worm and lizards is still paying dividends.

Some big crankbaits were working too as were swim baits and Texas rigged worms. The ledges seemed to produce the larger fish this week as summer patterns lingered just as fall arrived.

A few fish were relating to shady boat docks in an attempt to avoid the hot sun this week. Although the shallow gravel bars and roadbeds were stubborn to give up fish this week that could change once cloudy days and cooler surface temps return.

Topwater action has not been good this week but a lot of shad are still lingering around shallow gravel banks and backs of bays. Tossing spinnerbaits, Rattle Trap style baits and shallow running shad colored crankbaits should improve by next week as the fish return to a more aggressive pattern and resume chasing baitfish pushed by light winds into shallow areas.

Fall weather is indeed on the radar. Last Thursday was the first full day of fall and while it felt more like mid summer it appears some cool, crisp mornings are about to enter the picture. That good news for all anglers.


Also check out our past:
Kentucky Lake Fishing Reports

Steve McCadams is one of the nation's best known Crappie Fishermen and a full time resident of Paris, Tennessee. Steve is also a professional hunting and fishing guide here in the Paris Landing area.