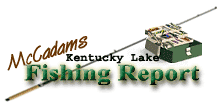 Brought to you by: Fishtale Lodge
Steve McCadams'
Kentucky Lake Fishing Report for:
September 23rd, 2005
Anglers have now entered a new season. Fall officially arrived on Thursday but summer has been stubborn to give up its grip on hot weather this week for Kentucky Lake fishermen.
Lake levels rose slightly this week and readings going into the weekend will be in the 356 range at both Kentucky Dam and in the New Johnsonville area.
Surface temperatures cooled slightly last weekend but climbed back into the 80 to 83 degree range this week courtesy of some hot and humid weather. However, cooler conditions are in the forecast for early next week so watch for a return to some cool, foggy mornings soon.
Watercolor remains clear throughout the Big Sandy and Paris Landing area.
Crappie fishing has improved lately with more fish entering the 8 to 12 foot zones. However, warm weather and high surface temperatures are still influencing some fish to stay in summer spots. Main lake ledges are holding some fish in the 16 to 20 foot depth zones.
Thereís a lot of fish hitting so you can definitely get your string pulled. Several small fish are still in the picture but some larger fish are showing up with more regularity this week.
Live minnows are producing and jigs tipped with minnows are working too. Popular colors have been blue and pearl, along with some chartreuse variations.
Bass action has been decent with more topwater action underway as fish chase shad around shallow grassbeds and sloping gravel banks. Buzzbaits, jerk baits, and floating flukes have accounted for some nice bass.
Shallow running crankbaits in the shad color are producing, along with Rattletraps and some suspending crankbaits cast around gravel banks and rock bluffs.
A few fish are taking spinnerbaits around shallow crappie beds and stumps. However, main lake ledges are still giving up decent fish as anglers continue to fish Carolina rigged lizards and big crankbaits around submerged structure. And, jig and pig combos are fooling a few larger fish, along with Texas rigged worms in the red shad, and blue metal flake colors.
Fall has just begun and thereís some good fishing ahead so donít let it pass you by.
For The Lake Barkley Report
Click Here
Also check out our past:
Kentucky Lake Fishing Reports
Steve McCadams
Steve McCadams is one of the nation's best known Crappie Fishermen and a full time resident of Paris, Tennessee. Steve is also a professional hunting and fishing guide here in the Paris Landing area.