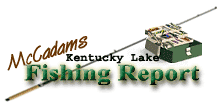 Brought to you by: Fishtale Lodge
Steve McCadams'
Kentucky Lake Fishing Report for:
September 22nd, 2006
KENTUCKY LAKEíS AUTUMN ANGLING
(GREAT ACTION AWAITS YOU)
Jacket mornings and shirtsleeve afternoons are two of the many things I like about this time of year. How Ďbout you?
Do you like fighting fish but not crowds? How about nice weather and calm winds?
Thatís just a few of the amenities of fall fishing here on Kentucky Lake.
Fall fishing is often underrated and overlooked here. Hefty stringers of crappie are taken after Labor Day and the largemouth and smallmouth take on an attitude once the water cools down too.
Like many reservoirs throughout the TVA system, Kentucky Lake has an annual drawdown where lower lake levels change the appearance of shoreline and main lake habitat.
Although some reservoirs in the eastern portion of the TVA valley will had revised drawdown schedules, Kentucky Lake has not changed. A variation of five feet separates the summer pool (359) level from winter pool (354) elevation.
Drawdown begins around July 1 and reaches it low ebb in November or early December. Anglers during the fall months of September and October are fishing just past midpoint of drawdown so itís a gradual change without fear of drastic alterations.
Generally speaking, fall fishing is a time of stability here. Anglers donít worry about the drastic changes of cold fronts and gale winds. The slow decline in lake levels allows fishing patterns to hold up well from week to week.
Predictability is another attribute for anglers who find a pattern one weekend and return the next, finding the fish awaiting their arrival at similar spots and depths.
Crappie anglers find shallow action improving once surface temperatures cool and just this week action has improved. Shad roam the main lake flats and big bays like Nomads lost in the desert.
Popular depth ranges are 9 to 12 feet for many areas of Kentucky Lake when it comes to locating the bulk of crappie but deeper ledges and drop-offs are not to be overlooked. Itís not unusual to some fish in both depth zones at times, especially in early fall.
Once surface temperatures cool expect to see significant movement to shallow structure such as natural stump rows and other submerged cover such as manmade fish attractors. Brush piles and stakebeds are the bread and butter of fall fishing.
Crappie move back into some of the same hideouts used during spring spawning. Although the fish are not approaching the structure for spawning, they still have the urge to seek refuge and relate to places where they can hide and ambush their prey.
Three popular techniques produce here during fall. Perhaps the most popular being the vertical presentation of tube skirted and hair jigs. The other two producers are casting light twister tail or swimming grubs and the every popular double-hook, tightline bottom-bumping rig, used primarily in deep water.
And, the slow trolling style of multipole presentations deserves honorable mention. Spider rig offerings have their time and place too. The buffet of baits moved slowly around submerged structure appeals to suspended crappie or those who cannot resist a slow, moving morsel that invades their space.
During the warm weeks of early fall crappie may still display a sluggish attitude so expect finicky strikes from moody fish. Once a cool front arrives with a little cloud cover the fish quickly changes gears, taking on a more aggressive mode with a competitive nature.
While some hotspots will give up double-digit numbers, the norm is to catch a few in a spot and move on to the next structure. That may be a short move up the ledge or just a few yards to another clump of stumps but anchoring the boat in one spot all day in hopes of finding unlimited schools is unusual.
Both black and white crappie are taken here in large numbers. Although white crappie still dominate the population, numbers of black crappie have increased here, due largely to clearer waters than those of yesteryear.
Bass action heats up just as the water cools too. The increased activity coincides with peaks in the fall crappie action, as both seem to perk up once shad movement occurs.
Early fall bassing can be a Mecca for topwater enthusiast. Gravel banks produce fast action in the early morning and late afternoon. Thanks to daily hatches of small insects known as midges, the shad hit the buffet line twice a day and put on a feeding frenzy.
A light breeze sets the table and sloping gravel banks come alive with a sliver sparkle flashing parade. The tiny baitfish jump just enough to catch the microscopic bugs and the eruption of hefty largemouth or smallmouth commands you to cast their direction.
Popular choices are chrome and sliver colored lures that mimic the mirror flash of shad in a rising or setting sun. The lowlight conditions stimulate the topwater bite.
Some of the more popular selections range from Rebelís Pop-R with a tinsel tail to the Storm Chub Bug or Heddon Zara Spook. Buzzbaits have a time and place too as do soft plastic jerk baits such as Flukes or Slugos.
Yet fall bassing here come in many forms. The magnitude of the reservoir lends itself to a variety of patterns and presentations. Slow rolling a spinnerbait around a submerged stump or exposed crappie bed will often test your tackle.
No tackle box is complete here without Tennessee Shad colored crankbaits and chrome finished Rattle Traps. Shorelines offer abundant gravel but rock points, roadbeds, rip-rap levees and bridge piers are the ticket sometimes and crankbaits help cover an abundance of water in a short period of time.
Some grassbeds exposed themselves at low water levels in early fall too. Weedless lures twitched slowly will often draw out even the most finicky bass.
It seems thereís always a few smallmouth lurking on the deep sandbars near the main river that like a finesse bait fished on their terms. At the same time a shallow water bass angler can tie into a drag tearing largemouth up shallow is spots where you have to trim up the outboard just to get there with the trolling motor.
Thatís the beauty and diversity of Kentucky Lake. Several different patterns for the same fish working at the same time. Carolina rigged lizards fish on clean sloping banks produce a strike while some other guy finds Ďem holding on stumps on main lake flats.
So wave goodbye to the hot and humid conditions of summer as you fish the transition time of fall on one of the stateís most prolific reservoirs.
For The Lake Barkley Report
Click Here
Also check out our past:
Kentucky Lake Fishing Reports
Steve McCadams
Steve McCadams is one of the nation's best known Crappie Fishermen and a full time resident of Paris, Tennessee. Steve is also a professional hunting and fishing guide here in the Paris Landing area.