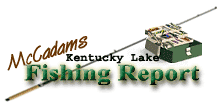 Brought to you by:





September 2, 2011


This week's fishing report indicates action has been sluggish for both bass and crappie anglers as not many success stories were coming in. Catfishermen haven't been setting the woods on fire either.

It appears a nice cool snap is on the horizon as fall conditions are expected to arrive early next week, a welcomed change which might stimulate the stagnant fishing conditions.

The forecast indicates temperatures will be some 12 to 14 degrees cooler and those chilly nights will make it feel like fall is slipping in the door. Until the cool front arrives anglers will have a few more days of hot and humid conditions to deal with but it sounds like some long sleeve shirt mornings are fast approaching.

Lake levels this week were falling slowly. TVA projects a reading of 356.3 going into the weekend at Kentucky Dam, which is down a few inches from last week at this time. Upstream at New Johnsonville the elevation will be in the 356.2 range this weekend.

Surface temperature is in the 82 to 84 degree range. Watch for a slight fall in temps next week as cool nights enter the picture. Water color remains clear as drought conditions linger. Anglers would welcome a few cloudy, rainy days.

Bass action has slowed this week with only a few scattered fish showing up for anglers working main lake ledges with Carolina rigged worms and crawfish, big Texas rigged worms, and some jig and pig combos. Although anglers are tossing big crankbaits at times the fish have been reluctant to show interest.

Some shallow water anglers are tossing spinnerbaits and shallow running crankbaits at times but action has been inconsistent with only a few small fish showing up.

Very little aquatic vegetation is showing up around shallow island rims and mud flats in the backs of bays as lower lake levels arrive. Normally, lower lake stages expose pockets of grass that appeal to shad and schooling bass this time of year but that has not been the case thus far.

Despite the recent slowdown things should rebound next week once cooler conditions kick in as baitfish might become more active and perhaps increase the interest levels of these late summer bass that seemed to have adopted an inactive status the last week or so.

Crappie anglers haven't had much to brag about either but several smaller fish were hitting this week and perhaps the lower surface temps next week might wake up the sleepy slabs that have played hide and go seek with anglers lately.

Once shad schools begin moving toward shallow flats watch for crappie action to improve in the midrange depths of 9 to 13 feet. Early September usually sees crappie moving up and taking on a better attitude.

Shallow stakebeds and brushpiles should start giving up some keeper size fish in the near future. Seems August was a bit slower than normal for most Kentucky Lake crappie anglers as the heat likely played a role.

Catfish anglers have not been out in force recently as very few boats have been seen meandering along the edge of the river channel, which is normally the case in late summer once current is present on a regular basis during the slow drawdown.

There have been a few fish taken around the Paris Landing bridge area and further south toward Standing Rock and Leatherwood creeks. Anglers have been slowly drifting with the current and bumping bottom in the 20 to 35 foot depth range and tying into a few fish at times.

Yet the summer bite for catfish has been a bit off compared to years past. No clear reason for the decline but diminishing numbers of boats seen along the river channel pretty much tell the story.

Autumn angling is fast approaching and if next week's forecast holds true, the transition time could get jump started soon.


Also check out our past:
Kentucky Lake Fishing Reports

Steve McCadams is one of the nation's best known Crappie Fishermen and a full time resident of Paris, Tennessee. Steve is also a professional hunting and fishing guide here in the Paris Landing area.