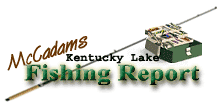 Brought to you by: Fishtale Lodge
Steve McCadams'
Kentucky Lake Fishing Report for:
September 21st, 2007
Kentucky Lakeís fall fishing scene has seen a bit of summer return this week as warmer temperatures and high skies teamed up with light winds and bright sun. Still, some cool nights made it feel great in the early morning outings.
And, fall officially arrives on Sunday anyway so perhaps summer still had a right to toss a few warm days our way before seasons traded places on the calendar.
Observed lake elevation at Kentucky Dam was 355.9 at midweek. Upstream at New Johnsonville the elevation was 355.8. The reservoir is down slightly from last week at this time.
Water color remains clear. There was a slight indication of current at midweek in the main river.
Surface temperatures are in the 78 to 82 degree range but will likely fall a few degrees by early next week if predicted rains arrive prior to an approaching cold front.
Crappie action has held up pretty good lately with the best action during the early morning and late afternoon periods. A few cloudy days saw the bite improve too in midrange depths of 9 to 13 feet.
A few days saw stagnant winds and high skies team up to make it tough at midday as the fish seemed sluggish and reluctant to bite. Itís not unusual to see action slow down some when clear water is present and the sun is straight overhead with no wave action present and that seemed to be the case.
Jigs fished around submerged stake beds and brush piles are paying off but tipping them with live minnows has increased the appeal. On the days when calm water was present the live minnows sure seemed to stimulate more strikes from the finicky crappie which have been holding tight to structure.
Iíve fished a variety of colors this week with chartreuse variations still working but several days saw dull colored skirts and unpainted leadheads produce as did some black leadheads and dark green skirts.
Smaller jigs in the 1/16 and 1-32-ounce size have worked over the larger leadheads when a light lead split shot was added a few inches above the jig for sensitivity. Tipping with scent attractants has helped too but live minnows seemed to be the bait of choice when added to leadheads.
Rain and cooler conditions are in the forecast for early next week, which should see increased activity in shallow zones. Right now shad are abundant all across the shallow flats and main lake areas.
Bass action continues to hold up well for a variety of patterns ranging from beating the grassbeds with spinnerbaits to slow crawling crankbaits on big rock points and gravel roadbeds.
Working worms around the grass has produced too. Popular colors have been Zoomís blue and pearl pencil style worm and also the green pumpkin pepper.
Slow rolling gold willow leaf spinnerbaits on the outside grass patches has given up some decent fish this week, along with some chrome colored rattle traps and floating slugo and fluke style worms.
Chartreuse and black colored crankbaits, along with Tennessee Shad and bone colors have been popular choices.
Carolina rigged worms are still producing some fish when worked over ledges and scattered cover in deeper areas.
Grassbeds are really starting to fragment in the open lake and aquatic islands are floating at random. Thereís still ample grass to fish but a lot of the spiny leaf naiad and pondweed is breaking loose from its summer home as wind and boat activity, along with lower lake levels and cooler surface temps, dislodges the vegetation.
The outer patches of grass which are submerged near deeper water have been producing best but shad are everywhere so itís kind of tough to eliminate areas as it all looks good.
Topwater action has been a bit slow but likely due to the high pressure that has lingered now for several days where no cloud cover and very little wind has been present.
Watch for next weekís cool snap and rain to stimulate the bite in shallow water as it may well feel like fall when the jackets and raincoats return.
For The Lake Barkley Report
Click Here
Also check out our past:
Kentucky Lake Fishing Reports
Steve McCadams
Steve McCadams is one of the nation's best known Crappie Fishermen and a full time resident of Paris, Tennessee. Steve is also a professional hunting and fishing guide here in the Paris Landing area.