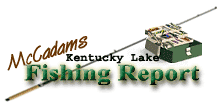 Brought to you by: Fishtale Lodge
September 2, 2010

Kentucky Lakeís fishing scene has a little touch of fall in the air lately as some cool nights have entered the picture. The transition of seasons is fast approaching and officially takes place on September 23---some three weeks from now.
Practically every angler is ready for fall. Itís a great season for fishing as stable weather and water levels combine to provide nice fishing conditions for both bass and crappie anglers, not to mention the catfish crew that continues to find fish along the main river channel.
After Labor Day the lake will say goodbye to the lionís share of pleasure boaters. Cooler conditions will send the swimmers and skiers indoors while school activities, weekend football games, and hunting seasons all team up to take lots of folks off the lake as well.
What does all this mean to fishermen? As boating activity and temperatures decrease, seems the fish action often increases. Bottom line is the lake quiets down and itís just a great time to be out there in the absence of a crowd.
Bass action has held on to its good reputation lately despite some warm days. Most of the better stringers continue to favor the main lake ledges or secondary drop-offs inside the mouth of large bays.
As lake levels and surface temps drop watch for an increase in activity from shallow flats, gravel banks, and sloping points where schools of shad are already moving up. Calm days this time of year will reveal the baitfish activity and those gulls will help you find the shad and bass too.
Already bass have begun chasing shad along gravel banks and shallow flats where some topwater action is available. Tossing chrome colored Rattle Traps or shallow running crankbaits will produce as those open water schools of bass hit and run.
Big crankbaits and Carolina rigged worms are still producing on the deeper ledges as are some Texas rigged worms.
Surface temps this week dropped a degree or two courtesy of cool nights. Readings were in the 85 to 88 degree range. Water color remains clear.
Lake levels were falling slowly at midweek after a slight increase last weekend. Elevation at Kentucky Dam will be in the 356.6 range going into the weekend. Upstream at New Johnsonville elevation was a bit lower and expected to be in the 356.4 range as the holiday weekend approaches.
Catfish were hitting better this week as some current has been present on a daily basis and that stimulates the bite for late summer cats along the main river channel. Depths of 20 to 30 feet were producing for anglers bumping bottom with nightcrawlers and big shiner minnows for bait.
Crappie perked up some since last week and will continue to improve in the weeks ahead as cooler conditions help stimulate movement from the deep drop-offs toward midrange depths.
Although action has been slow in shallow zones that will change soon as the crappie continue their transition toward the 9 to 12 foot depths. A few fish are there now but more are on the way as anglers should see stakebeds and brushpiles on the edges of drop-offs to be more attractive as temps approach the low 80ís.
Working the main lake ledges in the 16 to 18 foot depths is still worthy of pursuit as some decent fish are holding around deep structure and taking live minnows fished on bottom bumping rigs.
White bass action continues to be almost nonexistent in the Paris Landing area. The normal schools of surface activity are just not there. Very few fish have been seen in the jumps this summer as the fish are just not there.
Summer is about to loose its grip so make plans to give this late summer/early fall fishing phase a try.

Also check out our past:
Kentucky Lake Fishing Reports

Steve McCadams is one of the nation's best known Crappie Fishermen and a full time resident of Paris, Tennessee. Steve is also a professional hunting and fishing guide here in the Paris Landing area.