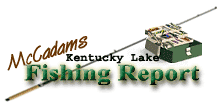 Brought to you by: Fishtale Lodge
Steve McCadams'
Kentucky Lake Fishing Report for:
September 20th, 2008
FALL ARRIVES MONDAY BUT BASS/CRAPPIE ALREADY RESPONDING TO COOLER CONDITIONS...LAKE LEVELS STABLE
Anglers waiting on fall fishing conditions to arrive can now turn the page. The wait is over as seasons officially change Monday yet cooler weather earlier this week was about as fall feeling as it gets.
Cool breezes required fishermen to reach deep in the closet and pull out long sleeve shirts and jackets, a move that suited most anglers just fine. It was a welcomed change.
Both bass and crappie will respond to the cooler surface temperatures this week and follow the path of meandering schools of shad that are already roaming shallow flats, gravel banks, and grassbeds in the backs of bays.
Surface temps fell several degrees this week and fog was hovering in places where the air was much cooler than the water and steam appeared to rise. Those jacket mornings and shirt sleeve afternoons are here.
Presently, surface temps are in the 75 to 79 degree range, which is some four degrees cooler than last week at this time.
Lake levels continue to hover around the 355 mark at New Johnsonville Steam Plant while Kentucky Dam levels are slightly higher at 355.3. Lake levels are similar to last week at this time as not much rain entered the picture---although it was needed and predicted--- across the TVA valley in the aftermath of Hurricane Ike.
Water color remains clear in most areas but some stain in present around grass where winds have whipped up algae and plankton.
High winds last Sunday really impacted anglers as gusts were recorded in excess of 40 mph in many areas. Since then things have settled down and fishing conditions are stable.
Bass and crappie patterns are changing some as cooler surface temps appear to offer more comfort zones in shallow water. However, some bass are still relating to main lake ledges and drop-offs in the mouth of bays where humps and creek channels with structure are holding fish.
Some bass fishermen are finding plenty of action in shallow water while others are hitting the shallow grass in the early morning hours or late afternoon but backing out to ledges at midday in hopes of finding a bigger bite.
Logging a lot of casts along main lake ledges may be required before finding that certain spot where mussel shell beds and clean gravel spots influenced by slow currents holds some suspended fish.
Spinnerbaits with gold willow leaf blades and white, chartreuse/blue, or clear glitter are a few popular choices. Weedless frogs are also working in the thick grass as are floating flukes and various topwater selections ranging from buzzbaits to stickbaits in shad or chrome color variations.
Carolina rigged worms, jig and pig combos, big crankbaits, and Texas rigged worms are still producing on the ledges.
Watch for increased action along gravel banks this week as the topwater bite improves when those lowlight midge hatches occur. The shad are there waiting for their insect buffet and the bass are not far behind.
Crappie have improved some and made a transition toward shallow areas where depths of 8 to 12 feet have given up some fish this week. However, there are still some scattered fish lingering on the main lake ledges in depths of 17 to 20 feet where both jigs and live minnow rigs have worked.
Itís not unusual to find a few fish in two depth extremes this time of year as some will relate to deep structure until cooler weather arrives and stays while it seems some move up early and occupy structure.
A few decent size crappie were taking 1/16-ounce jigs in shallow areas and tipping with a minnow seemed to enhance bites. Such colors as brown, blue/white, clear sparkle and dull chartreuse with red glitter fished on unpainted and black leadheads seemed to be a few popular choices.
Action in shallow and midrange depths has been best on days with cloud cover as the fish seem to back off at midday due to the bright sunlight and clear water combination.
Catfish are showing up along the main river channel with a few large fish being taken in that 25 to 35 foot depth range. Not much current has been present this week.
Fall fishing time is here so say goodbye to summer and hit the water.
For The Lake Barkley Report
Click Here
Also check out our past:
Kentucky Lake Fishing Reports
Steve McCadams
Steve McCadams is one of the nation's best known Crappie Fishermen and a full time resident of Paris, Tennessee. Steve is also a professional hunting and fishing guide here in the Paris Landing area.