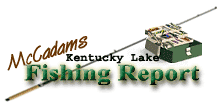 Brought to you by: Fishtale Lodge
Steve McCadams'
Kentucky Lake Fishing Report for:
September 17th, 2004
IVAN THE TERRIBLE CHANGES LAKE LEVELSÖ
TVA SPILLING WATER ON TENNESSEE RIVER
It started out thousands of miles away but Ivan The Terrible will likely alter lake levels here on Kentucky Lake this weekend and into next week.
TVA has altered its draw down schedule across the valley and began spilling water along Tennessee River reservoirs and tributaries earlier this week in anticipation of heavy rains.
Upstream at Ft. Louden, Watts Bar, and Chickamauga TVA was drawing the reservoirs down some two feet at midweek and spilling water through dams in hopes of creating more storage capacity.
Water was spilling, a term used by hydrologists when dams release water quickly as opposed to slow releases that operate turbines, by midweek at Ft. Louden, Watts Bar, Chickamauga, Nickajack, Guntersville, Pickwick, and here on Kentucky Lake.
That means thereís a lot of water coming through the Tennessee River system right now and as the last and largest reservoir in the TVA system, Kentucky Lake is inheriting a lot of water. Since the Tennessee River flows north all the water is passing right through our area.
Just how much rain the TVA valley will receive has yet to be determined as this column went to press but every meteorologist is painting a wet picture.
Locally, lake levels began rising Wednesday as the discharges began sending water our way. TVA is predicting a reading of 356.9 by midnight Friday at New Johnsonville but advises that could change.
The agency is recommending lake users pay close attention to the TVA website for updates on lake levels, especially those upstream. You can also call TVAís toll-free hotline at 1-800-238-2264 for specific reservoir readings and projections.
Hurricane Ivanís backwash of heavy rains means a lot of current in the main river this weekend and into next week. That could stimulate activity for catfishermen and some bass too as the fish react to increased movement from baitfish.
Since the reservoir up in east Tennessee are smaller, they have less storage capacity than Kentucky Lake and they could rise much faster, a situation that could play havoc on docks and marinas on those lakes.
Meanwhile, anglers will likely see some improvement in shallow water habitat, as grassbeds that were too shallow last weekend will have ample water this weekend. Bass will likely move up in shallow structure or roam many gravel banks and grass flats as meandering shad attract them.
Some ledges will improve for smallmouth where current stimulates action so working a few of those points or sandbars might payoff with a hefty bronzeback or two.
Crappie will likely move shallow too as the rising lake levels will make some shallow structure more attractive to them. Watch for improved action in the 9 to 13 foot zones this week.
Surface temperatures this week have been in the 78 to 81 degree range. Watercolor has been relatively clear but watch for a lot of dingy water in the Tennessee River this weekend while Big Sandy will likely remain clear.
The cloudy days will also aid the shallow water crappie anglers as it filters the bright sunlight and gives the fish a comfort zone.
Right now thereís a lot of change taking place on Kentucky Lake as to water conditions but it could help the fishing in certain areas.
However, itís a good idea to watch for floating logs and other debris as fast rising lake levels often send a lot of hidden dangers to boaters.
Donít let Hurricane Ivan dampen your fishing spirits too much.
For The Lake Barkley Report
Click Here
Also check out our past:
Kentucky Lake Fishing Reports
Steve McCadams
Steve McCadams is one of the nation's best known Crappie Fishermen and a full time resident of Paris, Tennessee. Steve is also a professional hunting and fishing guide here in the Paris Landing area.