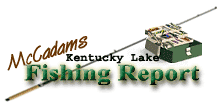 Brought to you by: Fishtale Lodge
Steve McCadams'
Kentucky Lake Fishing Report for:
September 16th, 2005
ANGLERS EMBRACE COOLER CONDITIONS…FALL ABOUT TO ARRIVE
This week's fishing scene has improved for crappie anglers as movement is underway toward midrange depths and fall patterns.
Fall officially arrives next Thursday but according to the weatherman a cool spell is forecast for the weekend. No one will complain if fall gets here a few days early.
Surface temperatures have lingered around the 80 to 84 degree range this past week but look for the approaching cool weather to bring that down in the mid to upper 70's by early next week.
Cooler surface temperatures will likely see additional movement by both bass and crappie toward shallow zones this next week.
Watercolor remains clear throughout most of the reservoir.
Lake levels are expected to be 355.7 this weekend in the New Johnsonville area while Kentucky Dam will be slightly higher with readings of 355.8, according to the TVA forecast. Kentucky Lake has been falling slowly since last week at this time but is expected to be stable for the next few days.
Crappie action improved in the 7 to 12 foot zones this week as fish appeared to be moving toward midrange structure in pursuit of shad. Several fish remain on main lake ledges but some larger fish appear to have left deeper venues and migrated toward fall patterns in midrange cover.
Jigs were producing well but seemed to be even more enticing when tipped with a minnow. Popular combo colors were blue and pearl, chartreuse and pink, and chartreuse with red metal flake.
Bass anglers were still taking some fish on ledges but action has improved in shallow grassbeds where a lot of shad are present. Texas rigged worms, floating flukes, and chrome colored jerk baits have combined to produce strikes around the visible weeds, which are prevalent since lake levels have dropped.
Tennessee shad and chrome colored crankbaits have also produces along gravel banks. A few fish are hitting topwater in the early morning and late afternoon along rocky banks as shad move in to feed on lowlight midge hatches.
A few bass are hitting white and chartreuse spinnerbaits when worked slowly around grass and visible wood such as logs, stumps, and exposed crappie beds.
Fall patterns are already underway but watch for a boost in action as cooler conditions arrive this weekend to signal the end of a long, hot summer.
For The Lake Barkley Report
Click Here
Also check out our past:
Kentucky Lake Fishing Reports
Steve McCadams
Steve McCadams is one of the nation's best known Crappie Fishermen and a full time resident of Paris, Tennessee. Steve is also a professional hunting and fishing guide here in the Paris Landing area.