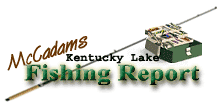 Brought to you by: Fishtale Lodge
Steve McCadams'
Kentucky Lake Fishing Report for:
September 15th, 2006
SUMMER FISHING HITS HOME STRETCH…FALL ALMOST HERE
Anglers got another boost at midweek, courtesy of a cool front that descended in the aftermath of thunderstorms and north winds.
Although warmer temperatures are in the forecast for the weekend, fishing conditions have been nice for anglers this week as lower humidity and fall-like conditions have helped put the summer doldrums in the rearview mirror of bass, crappie, and catfishermen.
Kentucky Lake's elevation actually saw a slight rise earlier this week as some heavy rains delivered runoff both here and upstream. TVA's projection for the weekend will be 355.9 at both Kentucky Dam and New Johnsonville Steam Plant as it appeared the reservoir crested at midweek and began a slow fall.
Surface temperatures have moderated and are holding in the mid to upper 70's. Water color remains clear in the main lake but some bays up Big Sandy and along the Tennessee River were showing signs of dingy water in the upper ends where feeder creeks entered.
Bass continue to hit good and a variety of patterns are producing. Fall patterns here often come in a mixed bag and that has proven to be true for several local tournaments lately where winning stringers are still requiring weights in the 16 to 18-pound plus range.
Aquatic vegetation is abundant along the Tennessee River bays, shallow flats, and island rims. That's offering anglers acres of good bass fishing targets as the grass is full of baitfish.
Such lures as spinnerbaits, floating flukes, topwater jerk baits, and Texas rigged worms are producing as are some weedless plastic baits such as frogs and rats. On the outside of the thick grass ripping a shallow running crankbait or rattle trap style lure has also worked well.
Main lake ledges and humps in the mouth of big bays continue to pay dividends too as anglers work big crankbaits, Carolina rigged worms, and jigs over the drop-offs. A few nice smallmouth are showing up too.
Some gravel banks showed improvement this week as shad colored crankbaits worked around chunk rock were producing strikes. And, the early morning and late afternoon pattern for topwater action has improved as more shad were present in the lowlight conditions where midge hatches offered a buffet to the forage fish.
Crappie continue to move up and occupy midrange structure in the 9 to 12 foot zones where stakebeds and brushpiles are located near deep water. Each fall the crappie fall into a transition pattern and slowly leave their deep water summer venues as they stay hot on the trail of their forage base, namely threadfin shad.
As schools of shad move shallow with the cooler surface temps hungry crappie won't be far behind.
Watch for increased activity in the weeks ahead as more crappie reside in the midrange depths and main lake flats where submerged structure attracts them.
Jigs in the chartreuse, blue and white, and orange and chartreuse combo colors are a few of the popular choices lately. Live minnows continue to produce and tipping a jig with a minnow has been a consistent carrot to dangle in front of finicky fish.
A few fish remain on the deep sides of main lake ledges where depths of 16 to 18 feet were giving up some decent numbers. Those double hook bottom bumping rigs armed with minnow or jigs always seem to find some fish on the ledges when structure is encountered
From the catfish department comes word of improvement earlier this week as current was present in the main river. That apparently stimulated the bite for a few days as anglers worked the main channel banks with nightcrawlers, cut shad, turkey livers, and live minnows.
Action seemed slower at midweek; however as lake levels crested and current ceased to exist. Watch for action to resume soon as TVA begins pulling water.
Fall officially arrives next Thursday so say goodbye to the last full week of summer fishing.
For The Lake Barkley Report
Click Here
Also check out our past:
Kentucky Lake Fishing Reports
Steve McCadams
Steve McCadams is one of the nation's best known Crappie Fishermen and a full time resident of Paris, Tennessee. Steve is also a professional hunting and fishing guide here in the Paris Landing area.