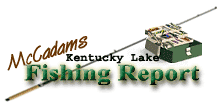 Brought to you by:





September 14, 2011

No dogwoods are blooming. Butter cups arenít stretching out of the ground with a yellow parade either.

Despite the absence of these springtime barometers used to stimulate crappie fishermen into making plans to head toward Kentucky Lake in a mad rush there are other indications that fishing is alive and well as autumn knocks on the door.

Fall crappie are overlooked and underrated and this past week has seen significant improvement as the bite has been good in midrange depths. Stakebeds and brushpiles in the 9 to 14 foot depth range have produced good numbers of fish.

Calendars indicate the season doesnít officially arrive until September 23 but the fish are already making the transition from summer to fall patterns thanks to recent cool snaps and some rising lake levels that likely contributed.

While a few fish remain on some main lake ledges in the 15 to 20 foot zone itís clear the bulk of fish have migrated out of summer hideouts in hot pursuit of threadfin shad. Slightly cooler weather is in the forecast for the weekend and that should keep fish moving toward shallow venues.

There are a lot of crappie just shy of the 10-inch length limit, which indicates a strong year class of two and a half year old fish that are on the threshold of becoming keepers. However, there are a few good fished mixed in with the smaller fish so anglers are culling a lot but catching big numbers, which isnít all bad.

Fish have been hitting chartreuse colored jigheads and various colored skirts with a preference for Berkley Power Bait crappie nibbles over plan jigs or live minnows. However, a few fish are taking minnows and some jigs tipped with minnows.

Action should hold up well for several more weeks as some larger fish continue to move up.

Surface temps this week were in the 75 to 78 degree range but will likely fall back a few degrees as cooler nights return. Water color remains clear across most of the reservoir.

Lake levels have been falling slowly this week after the reservoir crested last weekend near summer pool and almost four feet above normal for this time of year.

Elevation at Kentucky Dam this weekend is projected to be in the 357.7 range. Upstream at New Johnsonville lake levels will be in the 357.6 range. Expect lake stages to continue to fall slowly for several days as TVA pulls the reservoir back down to its winter drawdown curve.

Current is present in the main Tennessee River and will continue well into next week, which has helped catfishermen working the riverbanks.

Bass action has been mediocre this week as most anglers are having trouble connecting with larger fish. The bass bite slowed late last week and hasnít resumed for most fishermen who are attempting a variety of patterns with little success.

Some fish were chasing shad on shallow flats in the early morning and late afternoon periods and that may improve as cooler weather returns. Normally the bass are relating to gravel banks and roadbeds where shallow running shad colored crankbaits are productive.

A few boats continue to work main lake ledges but action has been inconsistent. As falling lake levels enter the picture action could improve around main lake ledges where current deposits baitfish.

Some rain and cloudy days could see surface activity improve as itís time for schooling fish to show up on shallow flats in pursuit of shad schools that meander in open water but near drop-offs.

Fall is a great time to be on the lake. Not many boats are on the water so itís nice and quiet out there. Good fishing and good weather are other reasons to pursue this fall fishing gig.


Also check out our past:
Kentucky Lake Fishing Reports

Steve McCadams is one of the nation's best known Crappie Fishermen and a full time resident of Paris, Tennessee. Steve is also a professional hunting and fishing guide here in the Paris Landing area.