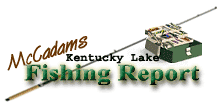 Brought to you by: Fishtale Lodge
Steve McCadams'
Kentucky Lake Fishing Report for:
September 14th, 2007
FALL FISHERMEN WELCOME WEATHER CHANGE
Bet you thought fall would never get here!
Actually, itís still over a week away as to the official arrival yet fall fishing conditions arrived this week after a long overdue cool snap entered the picture. And, several rainy days helped out too as most anglers had forgotten where they kept their raingear.
Action has improved this week for crappie and bass anglers, thanks to the pleasant temperatures and light winds. Low humidity combined with a chill in the air commanding a long sleeve shirt most mornings and boy did it feel good.
Surface temperatures began falling at midweek, courtesy of a northeast wind in the aftermath of several rainy days. Temps are presently in the 82 to 84 degree range but will likely fall even lower this weekend as cooler nights are in the forecast.
Observed elevation at Kentucky Dam is 356.2. Readings are also 356.2 upstream at New Johnsonville.
Kentucky Lake has actually risen a few inches since last week at this time due to recent rains. Water color is clear in the main river and throughout most of the bays on the east side while some dingy water is present along the western bays and flats in the Tennessee River and upper Big Sandy.
Shad have continued to move up toward shallow grass beds and gravel banks this week. Cooler surface temps should stimulate crappie action this week as a lot of fish follow their forage and enter midrange depths of 9 to 13 feet where manmade structure can be found.
Improvement has been reported already this week as increased numbers of fish were taken in deeper stakebeds and brushpiles the last few days. Baits of choice have been chartreuse variations of jig color combos.
Tipping with live minnows has helped too and adding various scent attractants seems to have stimulated strikes. The deeper water techniques are also using jigs worked around submerged cover but live minnows have paid dividends too.
Although a lot of crappie will be moving up this week in response to the cooler weather, look for a few fish to linger along the drop-offs and main lake ledges as well where that 15 to 20 zone will hold fish as well.
Bass action has been good with the recent rainy days and cloud over stimulating action in shallow water. A few days at midweek saw action slow down some due to high skies and northeast winds after four days of mixed rain and cloud cover that seemed to really turn the fish on.
A variety of patterns are producing and a lot of bait fish are migrating toward shallow grass and rocky banks. Several fish are taking shad colored crankbaits, along with some chartreuse and black, worked around roadbeds, rock points, and boat houses.
Other produces have been silver and white colored spinnerbaits worked around grass beds, along with some shallow running crankbaits and rattle traps.
Worms have also worked well this week with popular colors being blue and pearl, red shad, and purple with metal flake.
Topwater strikes were common on cloudy days as floating fluke style worms and jerk baits were working but the bright days have seen surface action fall off.
Some anglers are working Carolina rigs on ledges and also finding a few smallmouth on steep rock bluffs taking hair jigs.
Fall fishing action is heating up as the water cools down so better get out and take advantage of it.
For The Lake Barkley Report
Click Here
Also check out our past:
Kentucky Lake Fishing Reports
Steve McCadams
Steve McCadams is one of the nation's best known Crappie Fishermen and a full time resident of Paris, Tennessee. Steve is also a professional hunting and fishing guide here in the Paris Landing area.