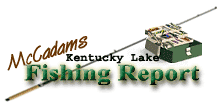 Brought to you by: Fishtale Lodge
Steve McCadams'
Kentucky Lake Fishing Report for:
September 13th, 2008
LAKE LEVELS DOWN SINCE LAST WEEK...BASS/CRAPPIE ACTION TRANSCEND TOWARD FALL PATTERNS
Fall is still more than a week away (Monday, Sept 22) before it officially arrives on the calendar but approaching conditions indicate a cool snap and rain are in the forecast. Temps are expected to fall Sunday as more fall like conditions enter the picture, escorted by much needed rainfall.
Crappie are already showing signs of transition as they stair-step a path toward midrange depths of 8 to 12 feet. Some fish have been taken even shallower earlier this week.
I found some fish yesterday (Thursday) in 8 to 9 foot stakebeds. Tipping a jig with shiner minnows seemed to enhance the bite. Although scattered I did find some keeper-size fish showing up in places that were void of activity just a few days prior.
Presently, lake elevation at Kentucky Dam is 355.6, down several inches since last week at this time. Upstream at New Johnsonville lake levels are in the 355.2 range. TVA's drawdown the last week has been somewhat ahead of schedule as the present readings are not usually seen until October.
Drought conditions continue to have an influence on the Tennessee River system but rain is expected by the weekend and early next week from the backwash of Hurricane Ike.
Fishing has been fair this week for bass, catfish, and a few crappie anglers.
Surface temperatures are in the 79 to 82 degree range. Those temps are a several degrees cooler than last week at this time. Water color remains clear.
Beneath the Paris Landing Bridge several boats have been finding some tackle testing catfish in the 35 foot depth range. A few have been taken in the 18 to 20 pound range by anglers using leeches and night crawlers. Some are also baiting with chicken liver and goldfish or large shiner minnows.
Bass and grass are still the deadly combination for most anglers who just want to get a bite and feel something pull on their line. Several fish have been taken this week by anglers tossing weedless frogs and floating fluke style worms in the thick vegetation.
Topwater action continues to produce too as jerk baits such as Stormís Chugg Bug, Rebelís Pop-R, floating Rapala, and a Zara Spook have been a few favorites fished around the parameters of grassbeds. Floating flukes such as the Banjo minnow, Slugo, and Yamamoto jerk worms have been good choices as well.
Spinnerbaits in blue/chartreuse, silver glitter, and white with gold willow leaf blades have been the catís meow as working them slowly around the deeper patches of grass works great once the sun gets up. However, several fish have been taken in shallow grass this week this week.
Texas rigged worms in a variety of colors have also paid dividends.
Out on the main lake ledges the big crankbaits, Carolina rigs, and large Texas rigged worms continue to produce a few fish as have a jig and pig combo. Some anglers have also worked spoons around drop-offs to find a few largemouth and spotted bass running shad when schools of white bass were present.
Crappie activity has been fair with some improvement on days when cloud cover entered the picture. Those overcast days seem to stimulate the bite on finicky summer crappie that sometimes move up toward 8 to 11 foot depths in lowlight conditions.
A few deep stakebeds and brush piles have been giving up some fish in the early morning and late afternoon hours with midday action best around the deep sides of ledges in the 19 to 25 foot zones.
Watch for crappie action to improve in the weeks ahead as the fish usually start moving up in early September as shad migrate to shallow flats and roam the open water areas.
Some boats are slow trolling crankbaits and covering a lot of water to find a few scattered crappie hanging on the edge of the drop-offs.
Fall draws closer every day and it is one of the most underrated and overlooked seasons of the year for great fishing here on Kentucky Lake.
For The Lake Barkley Report
Click Here
Also check out our past:
Kentucky Lake Fishing Reports
Steve McCadams
Steve McCadams is one of the nation's best known Crappie Fishermen and a full time resident of Paris, Tennessee. Steve is also a professional hunting and fishing guide here in the Paris Landing area.