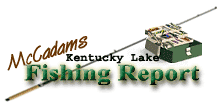 Brought to you by: Fishtale Lodge
Steve McCadams'
Kentucky Lake Fishing Report for:
September 1st, 2006
Anglers have received another reprieve from summer weather and there's a touch of fall in the air.
Cooler conditions have improved the attitude of both the fish and the fishermen this week as crappie and bass seemed to show improvement.
Surface temperatures were starting out in the 81 degree range each morning and warming to the 84 degree mark at midday. Look for a slight drop this weekend as cool nights will likely have an influence.
Kentucky Lake's elevation is normally falling slowly this time of year but the reservoir actually experienced a slight rise in lake levels this week. The reversal is likely due to some heavy rains south of here which occurred earlier in the week.
TVA indicates lake stages will be in the 356.9 range going into the weekend at Kentucky Dam. Upstream at New Johnsonville the forecast will be 356.8.
Watch for lake levels to crest soon and begin falling after Labor Day barring any additional heavy rainfall.
Crappie action has improved over the previous two weeks as more fish move to the 9 to 13 foot zone. Some fish remain deep but in response to cooler conditions a lot of shad have moved up and brought the crappie with them.
At midweek I found fish taking white and clear sparkle tube jigs fished vertically around submerged brushpiles and stakebeds. Most of the fish were taking the jig pretty good. Adding live shiner minnows to leadheads was also producing strikes.
This is the time of year when crappie begin moving up to those midrange zones so watch for action to continue to improve in the weeks ahead. There is a variety of sizes mixed together so you can have fun catching several fish and cull out some keepers to boot!
Bass action is also responding to the cooling trend as fish are chasing minnows on gravel banks and around the abundance of aquatic vegetation now showing. Ample grassbeds are present where you can toss floating worms, buzzbaits, jerkbaits, or some Texas rigged worms.
Some fish are hitting rattle traps on the outside of grassbeds and along gravel banks. A few shad are showing up in the early morning and late afternoon along the pea gravel shorelines.
Main lake ledges are holding on to some bass too. Anglers working Carolina rigs and big crankbaits are still finding fish holding there.
Watch for the shallow bite to improve this week as surface temps cool.
Some catfish are showing up along the main river too. Anglers working the riverbank are landing some good size fish.
Not much going on in the white bass department as very few jumps have been reported.
Fall fishing patterns are fast approaching.
For The Lake Barkley Report
Click Here
Also check out our past:
Kentucky Lake Fishing Reports
Steve McCadams
Steve McCadams is one of the nation's best known Crappie Fishermen and a full time resident of Paris, Tennessee. Steve is also a professional hunting and fishing guide here in the Paris Landing area.