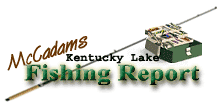 Brought to you by: Fishtale Lodge
Steve McCadams'
Kentucky Lake Fishing Report for:
September 10th, 2004
BASS ACTION IMPROVES IN SHALLOW GRASS…FISH ENTERING FALL PATTERNS
This week's fishing report is showing some improvement for bass in shallow grass beds and rock banks while crappie show some signs of early fall patterns.
Kentucky Lake is falling slowly now but was on the rise earlier in the week. After rising several inches last weekend TVA indicates the reservoir will see a gradual drop in lake levels through the upcoming weekend.
Lake levels are estimated to be 356.1 at New Johnsonville this weekend. Downstream at Kentucky Dam estimated lake elevation will be slightly higher with a 356.3 prediction.
Anglers and practically all lake users were watching the long range forecast last week with anticipation of heavy rains in the aftermath of Hurricane Frances. However, most of the rain fell in middle and east Tennessee, dodging Kentucky Lake.
Heavy rains across portions of the TVA valley could send some runoff our way so lake levels could rise some next week, although no high water is in the forecast at this time.
Watercolor remains clear throughout most of the Paris Landing area and upper Big Sandy basin. Strong northwest winds whipped the lake up on Tuesday and Wednesday, stirring up some stain on shallow points along the main lake but very little dingy water is present.
Bass action continues to hold up around those visible grass beds where lots of baitfish are present. Several fish have been taken in shallow water this week as anglers work topwater plugs and spinnerbaits around grassbeds both in the backs of bays and along main river island rims.
A few bass are hitting shad in the lowlight conditions of early morning and late afternoon on the gravel banks. This is the time of year when those twilight hours produce some nice surface action as midge hatches are underway, attracting thousands of threadfin shad that show their silver sides in the placid waters.
Buzzbaits, along with a variety of chugger style plugs, often entice strikes as can shallow running crankbaits and chrome colored Rattle Traps. Some of the soft plastic jerk baits are worth tying on too as they make a soft and quiet entry when hitting the water, unlike some other lures that might scare a fish in shallow water.
Some visible treelaps and exposed stakebeds are giving up some bass too. A few boat docks offer shade and cover as well.
Some smallmouth have shown up off rip-rap levees and around bridge piers lately. Some main lake sandbars have produced a few smallmouth too as anglers work finesse baits along the ledges or slow crawl Carolina rigs.
Crappie are showing some improvement as fall draws closer. There's still a lot of small fish being caught in midrange depths of 9 to 12 feet. There's an abundance of black crappie out there but they're sometimes short and chunky but slightly shy of the minimum 10-inch length limit.
Some of the larger fish are still lingering on main lake ledges in 16 to 20 foot zones with a few fish residing even deeper.
Look for action to improve next week as a few of the larger crappie begin to move toward midrange depths. A few cooler nights and some overcast days will see shallow action improve.
White bass action is still slow with very few jumps reported.
Catfishing is holding up well along the main river channel. Depths of 25 to 35 feet have produced this week as anglers bump bottom with nightcrawlers, leeches, catalpa worms, and hotdogs soaked in garlic powder or various stink baits.
A few catfish are moving up on flats in 10 to 14 foot areas. Jug and trotline fishermen are still landing a few from those areas.
Surface temperatures remain in the 79 to 83 degree range.
Look for overall fishing to respond favorably in the aftermath of the next cool spell.
For The Lake Barkley Report
Click Here
Also check out our past:
Kentucky Lake Fishing Reports
Steve McCadams
Steve McCadams is one of the nation's best known Crappie Fishermen and a full time resident of Paris, Tennessee. Steve is also a professional hunting and fishing guide here in the Paris Landing area.