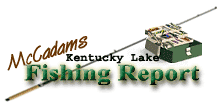 Brought to you by: Fishtale Lodge
Steve McCadams'
Kentucky Lake Fishing Report for:
August 6th, 2004
This weekís Kentucky Lake fishing report is topped by catfish action along the main riverbank where the cats are on the prowl.
Crappie and bass action and holding well while white bass continue to evade most anglers in the Paris Landing area.
Surface temperatures are in the 84 to 88 degree range this week. Some much needed cool weather is slated this weekend and could cool things down a bit.
Watercolor is relatively clear throughout most of the reservoir.
Lake levels have been falling slowly this week. Observed elevation at Kentucky Dam was expected to be 357.8 this weekend.
Catfishing has been good all summer throughout most of the main Tennessee River area. Depths of 20 to 35 feet have produced some good stringers lately. And, a lot of anglers are still catching hefty stringers while trotlining and jug fishing.
Popular baits continue to be yellow tail shad, night crawlers, catalpa worms, chicken liver and leeches.
Many of the commercial fishermen indicate the catfishing is about as good as they have seen it in years.
Crappie action is pretty good with several fish coming from midrange depths instead of the deeper depths, which are common this time of year.
I searched several deep water holes earlier this week and found several small fish hanging on the deep sides of ledges in 20 to 24 feet but the bulk of the keeping fish came from 11 to 13 foot zones.
Live minnows were producing best but a jig tipped with a minnow continued to yield results. Sometimes the better-dissolved oxygen levels are in the shallow to midrange depths during the dog days of summer and that could be the case now.
Cooler conditions now upon us make it feel like fall isnít too far away.
Bass action is fair with some main lake ledges giving up strikes as anglers continue to work Carolina rigged worms and lizards. Black and blue jigs have produced too, along with red shad and June bug colored worms rigged Texas style.
Night fishing has become more appealing lately due to both hot weather and a better bite. Some smallmouth have been taken lately on rocky bluffs as anglers slow roll big spinnerbaits.
White bass action has been slow with very few jumps reported. Normally, the doldrums day of mid-summer are peak time for surface action. However, white bass schools continue to decline in this year and nowhere come close to the fast action of yesteryear.
A few Mayfly hatches have taken place lately so thereís still some action for bluegill and bass beneath the willows.
Both the fish and the fishermen welcome the cool spell. Better take advantage of it while itís here.
For The Lake Barkley Report
Click Here
Also check out our past:
Kentucky Lake Fishing Reports
Steve McCadams
Steve McCadams is one of the nation's best known Crappie Fishermen and a full time resident of Paris, Tennessee. Steve is also a professional hunting and fishing guide here in the Paris Landing area.