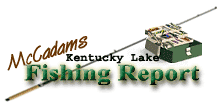 Brought to you by: Fishtale Lodge
Steve McCadams'
Kentucky Lake Fishing Report for:
August 4th, 2006
Fishing reports continue to be at the mercy of hot weather and not many anglers are braving the heat lately. Still, bass continue to hit with several fish coming from relatively shallow areas and a few scattered white bass and crappie reports are coming in as well.
Lake levels have been steady the last few days but will likely fall next week as TVA resumes its drawdown schedule. Some recent rains upstream have delivered some runoff and the reservoir actually saw a slight rise last week.
Current elevation is in the 357.7 range at New Johnsonville. At Kentucky Dam the reading was slightly higher at 357.8.
Surface temperatures were above average as has been the temperature. I was on the lake Wednesday and observed temperatures in the 91 degree range in a couple of shallow bays.
Water color is sporting a slight stain in the mouth of Big Sandy but dingy in the upper basin around Country Junction and south toward the gravel pit area. Heavy rains last week to our south have delivered a lot of stained water to the upper Big Sandy.
There is some current in the main Tennessee River lately and water color is relatively clear.
Bass anglers are finding some fish shallow and taking worms, spinnerbaits, shallow running crankbaits and some buzzbaits and floating worms. Some shallow grass beds are holding fish as the shad and small pin minnows are relating to the aquatic habitat.
White bass action continues to be inconsistent as not many jumps have been reported. A few have been taken as anglers cast rooster tails and work spoons around bridge piers and open lake sandbars.
I logged several miles at midweek searching for some surface action from white bass but no shad were working the surface and as a result, no white bass were busting. In fact, a couple of boats reported they had been out several mornings this week but to no avail.
Not many anglers are working the main river channel for catfish so overall action has been slow.
Crappie have been relatively slow with several small fish still lingering in the 11 to 13 foot manmade structure. The main lake ledges are not giving up many good fish lately either as the 18 to 24 foot zones are not paying off.
No doubt the hot weather has been a factor but a day or two of cooler weather and some cloudy conditions could improve things for everyone. Fall isnít as far away as it used to be!
For The Lake Barkley Report
Click Here
Also check out our past:
Kentucky Lake Fishing Reports
Steve McCadams
Steve McCadams is one of the nation's best known Crappie Fishermen and a full time resident of Paris, Tennessee. Steve is also a professional hunting and fishing guide here in the Paris Landing area.