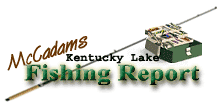 Brought to you by: Fishtale Lodge
Steve McCadams'
Kentucky Lake Fishing Report for:
August 4th, 2005
From the fishing scene comes scattered reports of night fishing success for bass and crappie anglers while a few braving the summer heat have caught catfish, white bass, crappie and bass in some early morning and later afternoon outings.
Kentucky Lake has been falling slowly since last week, which is normal under TVA winter drawdown curve. Lake elevation in the New Johnsonville area will be 357.3 this weekend with a similar lake stage at Kentucky Dam. Thatís a few inches lower than last week at this time.
Surface temperatures are in the 87 to 90 degree range. Watercolor remains clear throughout the reservoir.
Several crappie are still being caught on main lake ledges by anglers working bottom-bumping rigs armed with live minnows. Those drop-offs holding deep stumps and brush in the 18 to 24 foot range are producing fish, although a lot of fish are small.
Still, a few decent crappie are mixed in with the smaller fish, along with an occasional surprise from a hefty catfish, drum, sauger or largemouth.
Night fishing has become more appealing lately as anglers attempt to beat the heat. Fishing beneath the lights as the boat is anchored over the edge of a drop-off on the main lake is producing crappie.
Bass action has been fair but pretty good for some anglers such as Roger Buffington of Paris. In last Friday morningís Sportsmanís Digest tournament he landed a hefty largemouth that tipped the scales at 7.95 pounds! Thatís a big bass in anyoneís book but especially on a hot summer day when fish are somewhat lean.
Anglers are still tossing crankbaits, Carolina and Texas rigged worms on the main lake ledges for most of the larger fish.
Both night and daytime anglers have taken some decent smallmouth too. Backing off the banks and working those sloping ledges will put you in touch with a few bronzebacks.
Catfish action is fair along the main river channel. Current has been present this week, which has helped the catfishermen. Depths of 25 to 40 feet are holding most of the fish.
A few white bass are showing up but no consistent activity has been reported. The heyday of surface activity where those big schools blasted shad on top of the water seem to be behind us.
The next few weeks should see some improvement; however, as the doldrums summer days and placid waters make it easier to spot white bass in the jumps. Keep the small spinners, spoons, and topwater baits handy.
For The Lake Barkley Report
Click Here
Also check out our past:
Kentucky Lake Fishing Reports
Steve McCadams
Steve McCadams is one of the nation's best known Crappie Fishermen and a full time resident of Paris, Tennessee. Steve is also a professional hunting and fishing guide here in the Paris Landing area.