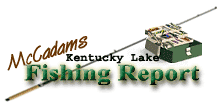 Brought to you by: Fishtale Lodge
Steve McCadams'
Kentucky Lake Fishing Report for:
August 3rd, 2007
Lake levels have been relatively stable this week for anglers on Kentucky Lake. Elevation at both Kentucky Dam and upstream at New Johnsonville has remained in the 357 range most of the week as very little change has taken place.
Surface temperatures have been in the 87 to 90 degree range. Warm nights havenít allowed much in the way of cooling off and very little rainfall has entered the reservoir lately. Water color remains clear.
Grass continues to dominate the conversation for most boaters and bass anglers as the shallow flats and sandbars are covered with pondweed and various aquatics. Although not much grass in present in the upper portion of Big Sandy or West Sandy, it is abundant across the Tennessee River portion of the reservoir.
Bass fishermen are working the grassbeds as a lot of baitfish are present there. Schools of shad are visible in the early morning and late afternoon periods near the surface. And, a lot of sunfish are there too, feeding on various insects and the various algae and zooplankton.
Some anglers are finding fish taking spinnerbaits, topwater jerk baits and buzzbaits, floating worms, and Texas rigged worms fished on the edges and around open pockets. Deeper ditches and sloughs are easily found as the grass will show you where to fish and run the boat.
Finding the deeper water close to grass seems to be the most productive.
A few anglers are still staying on the deep water patterns and working ledges and humps along the main river channel with Carolina rigged worms, deep diving crankbaits, and jig and pig combos.
Night fishing has entered the picture for a few bass anglers too. Slow rolling a spinner bait along sloping points has produced a few scattered fish.
Crappie and white bass fishermen have also turned to night fishing lately using floating lights and lanterns affixed to jon boats and pontoons.
In an attempt to beat the heat a few fishermen are trying to find fish out over main lake ledges and river channel breaks. Action has been limited, however, as only a few have reported success with not much help from mayfly hatches lately.
Most of the daytime crappie action has come from anglers working live minnow rigs out over deep drop-offs. Depths of 20 to 25 feet have produced some scattered fish this week.
White bass action has been slow as only a scattered jump has been seen here and there. A few boats are trolling cankbaits and rooster tails and picking up some but action has been inconsistent.
Catfishermen have not been bragging much either has the lack of current in the main river has not been friendly to the summer bite.
For The Lake Barkley Report
Click Here
Also check out our past:
Kentucky Lake Fishing Reports
Steve McCadams
Steve McCadams is one of the nation's best known Crappie Fishermen and a full time resident of Paris, Tennessee. Steve is also a professional hunting and fishing guide here in the Paris Landing area.