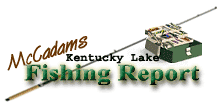 Brought to you by: Fishtale Lodge
Steve McCadams'
Kentucky Lake Fishing Report for:
August 29th, 2003
Fishing continues to hold up well for summer crappie, catfish, and bass action.
Despite the return of hot and humid conditions this past week, fishing has been good.
Catfish have been taken this week by anglers jug fishing along the main river channel. Depths of 10 to 25 feet have produced some nice cats as anglers let the wind and current take the bait to the fish.
Other anglers continue to find fish in the typical bottom-bumping presentations along the main river in depths of 20 to 40 feet.
The bait of choice continues to be nightcrawlers, catalpa worms, and leeches but some anglers are using liver, along with some homemade concoctions.
Crappie have been hitting good this week as anglers work the main lake ledges. I found several fish holding in the 16 to 22 foot zone this week where submerged structure was scattered along the drop-off.
The fish were taking live shiner minnows quite well when fished on a double-hook, bottom bumping rig.
A few fish are still lingering around deep brushpiles and stakebeds, which are located close to deep water. Tightlining jigs and minnow combos was accounting for a few fish there.
Overall, the summer crappie action has been good on Kentucky Lake.
Bass action has been holding its own this week as some good fish are taking worms and crankbaits out on the main lake ledges.
Carolina rigged lizards and worms were working as anglers tossed them around drop-offs. Shad colored crankbaits and chartreuse and black combos were working too.
Some bass fishermen were throwing black and blue jigs on the ledges while others were stalking shallow areas and finding some fish taking spinnerbaits and shallow running crankbaits.
Some logs, treelaps and roadbeds were giving up some bass this week too.
Surface temperatures were in the 86 to 88 degree range. Watercolor was relatively clear throughout most of the lake.
Observed elevation in the New Johnsonville will be 356.4 this weekend, according to TVA. Elevation at Kentucky Dam is expected to be the same. The lake has been falling slowly this week.
Action in the white bass (stripes) department has been slow. The normal schools of shad that stimulate surface feeding frenzies have not been visible. The bottom line is that white bass are not showing up in the creel of anglers.
In times past, the "jumps" of white bass were the best thing going during the month of August and early September. However, the last few years the sightings of surface activity have been far and few in-between.
Night fishing remains on the menu for many crappie anglers. Several reports indicate the fishing has been good as anglers anchor over the main lake ledges and utilize lanterns and floating lights to draw the baitfish.
Most anglers are using live minnows fished in a vertical presentation beneath the lights and enjoying some decent catches while beating the heat.
For The Lake Barkley Report
Click Here
Also check out our past:
Kentucky Lake Fishing Reports
Steve McCadams
Steve McCadams is one of the nation's best known Crappie fishermen and a full time resident of Paris Tennessee. Steve is also a professional hunting and fishing guide here in the Paris Landing area.