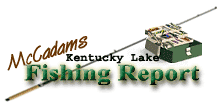 Brought to you by: Fishtale Lodge
Steve McCadams'
Kentucky Lake Fishing Report for:
August 27th, 2004
Summer fishing patterns have been somewhat different for bass anglers lately while crappie and catfish action holds its own.
Kentucky Lake has been falling slowly this week but a lot of rain has entered the system due to thunderstorms. Thatís keeping some current out there in the main river, which has helped the catfishing.
Observed lake elevation this weekend is expected to be 356.8 at Kentucky Dam. Upstream at New Johnsonville the levels are slightly lower with readings of 356.5 expected.
Surface temperatures have been in the 81 to 84 degree range this week. Watercolor has been stained throughout much of the upper Big Sandy basin due to heavy rains and runoffs while the main lake area near Paris Landing is clear. And, some stain is present in the main Tennessee River as well.
Bass action improved this week with several stringers coming from shallow water. As lower lake levels expose visible structure, many anglers are finding the fish somewhat shallow for this time of year.
Thereís a lot of aquatic vegetation showing up around the rims of islands and main lake mud flats. Most of it is pondweed and naiad as not much milfoil is present. However, the shad and various species of minnows are really using the grass for refuge and the bass are hot on their trail.
Such topwater lures as buzzbaits, Rebel Pop-R, Heddon Zara Spook, Rapala, and Smithwickís Rogue and Devilís Horse have been producing as have floating plastic baits such as flukes and worms.
Spinnerbaits and Texas rigged worms have also produced lately.
Some anglers are working main lake ledges with big crankbaits and Carolina rigged worms and lizards but strikes there have been scattered. A few jig and pig combos have produced a smallmouth or two as have some small finesse baits but it appears the success rate has been best in shallow water.
Successful reports from bass anglers under the stars have been few. Some night fishing is taking place for smallmouth but success stories have been few.
Crappie continue to hit pretty good with several small fish still part of the picture. Depths of 13 to 15 feet were producing on the main lake ledges as anglers tightline jigs and minnows around submerged brush and stumps. A few fish were lingering along the deep sides of ledges in 18 to 20 foot areas but it has been tough to find a concentration.
Some midrange brushpiles and stakebeds are giving up a few scattered fish too. Anglers have been vertical fishing jigs tipped with Power Bait around 12 to 14 foot manmade fish attractors.
The cloudy days have helped both the bass and crappie fishermen.
Catfish action is holding up as main lake areas near the river channel continue to give up some hefty catfish. Overall, the summer has been good for catfishing here on the Tennessee River as a lot of current has been present.
Depths of 25 to 40 feet have yielded some good stringers lately. Baits of choice continue to be nightcrawlers, leeches, catalpa worms, and cut shad. Some of the jug and trotline guys continue to use hotdogs soaked in various concoctions ranging from garlic powder to WD-40!
Some improvement in the white bass department has been reported but still far from what anglers hoped it would be during the late summer doldrums.
A few scattered jumps are showing up but itís quite clear the numbers of white bass are declining. In fact, at the TWRA Commission meeting in Nashville on Wednesday and Thursday, state fisheries biologists are proposing a reduction in the creel of whitebass from 30 down to 15 per day.
If the proposal passes, it would not go into effect until March 1, 2005.
For The Lake Barkley Report
Click Here
Also check out our past:
Kentucky Lake Fishing Reports
Steve McCadams
Steve McCadams is one of the nation's best known Crappie Fishermen and a full time resident of Paris, Tennessee. Steve is also a professional hunting and fishing guide here in the Paris Landing area.