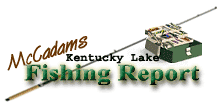 Brought to you by: Fishtale Lodge
Steve McCadams'
Kentucky Lake Fishing Report for:
August 24th, 2007
Summer fishing has been about like kissing your sister. The extended period of hot and humid weather has not been attractive to anglers as fishing trips have been more like an endurance test than a pleasant outing.
Still, there always seems to be some folks catching fish here on Kentucky Lake and a few success stories are coming in from dedicated bass anglers braving the heat. Other categories such as crappie, catfish, and white bass have not fared well during the summer doldrums.
Presently, Kentucky Lake is resting in the 356.8 range at Kentucky Dam. Lake levels upstream at New Johnsonville are pretty much the same as low flows continue to be a factor due to lack of rainfall and runoff.
Surface temperatures have been in the 89 to 92 degree range for the last two weeks with no cool weather in the forecast. Water color remains clear throughout most of the reservoir.
Grass beds have been breaking up somewhat as blocks of vegetation are floating at random across the lake. Often times trapped gas bubbles create buoyancy and dislodge the fragments of grass and tiny islands of pondweed are scattered across the surface.
Most of the shallow flats and submerged island sandbars are still covered with thick grass. The visible structure has offered bass anglers plenty of targets as minnows and a variety of sunfish use the grass and therefore attract bass. And, the carpets of grass offer some shade as well.
Generally speaking, the best bass action has come from grass beds near deep water and along the main river islands where deeper sloughs or ditches are adjacent to grasslines.
Some anglers are tossing topwater jerk baits such as Rebelís Pop-R, Stormís Thunderstick, and Heddonís Zara Spook around the edges of grass. Floating flukes, Texas rigged worms and spinnerbaits have also produced some fish.
Deeper patterns along rock bluffs and main lake ledges have seen Carolina rigged worms, jig and pig combos, and deep diving crankbaits producing a few fish as well.
While the bulk of bass anglers have reported pretty tough fishing a few others have tricked some into biting as did Bill and David Schmidt who landed a stringer weighing 20.10 pounds to win last Saturdayís Chris Hamilton benefit bass tournament out of Paris Landing State Park. They also won the big bass award courtesy of a 6.15-pound largemouth.
And, the next three boats landed stringers in excess of 18 pounds so some anglers have mastered the hot weather pattern.
Crappie action has been slow this week as not many large fish are showing up. Several smaller fish are holding in midrange stakebeds and taking jigs and jigs tipped with minnows but overall action has been below average as the hot weather has likely been a factor.
A few fish were coming from make lake ledges in 18 to 25 foot zones but quite scattered there.
Only a few night fishing reports have come in as anglers attempt to beat the heat. Night fishing can be productive as floating lights and lanterns offer another approach to daytime trips.
Catfishermen continue to complain about the lack of current in the Tennessee River and that has diminished productivity this summer. Seems the fish are just too sluggish without current. Baitfish activity has been off and overall, catfish action has suffered this summer compared to times past.
Everyone is hoping fall comes early this year as anglers are ready to say goodbye to a hot and dry summer that has challenged even the die-hard fishermen.
For The Lake Barkley Report
Click Here
Also check out our past:
Kentucky Lake Fishing Reports
Steve McCadams
Steve McCadams is one of the nation's best known Crappie Fishermen and a full time resident of Paris, Tennessee. Steve is also a professional hunting and fishing guide here in the Paris Landing area.