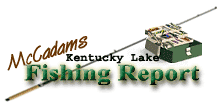 Brought to you by: Fishtale Lodge
Steve McCadams'
Kentucky Lake Fishing Report for:
August 24th, 2006
This week's fishing report has seen some relief for anglers in terms of lower humidity. And, there was a short reprieve in temperatures too. While fall is still several weeks away, there's a touch of it in the air some mornings.
August angling has been challenging for a lot of anglers who have not found the hot and humid month to be very friendly.
Still, some fish continue to bite and this week has seen some improvement for crappie and catfish anglers. Bass action has been fair as have white bass reports.
Kentucky Lake's elevation was in the 356.8 range at Kentucky Dam but a few inches lower at New Johnsonville where readings were in the 356.6 range going into the weekend. The reservoir actually saw lake levels raise a few inches at midweek.
Surface temperatures were in the 83 to 86 degree range. Water color remained clear throughout most of the reservoir.
Crappie anglers were taking some fish during the early morning and late afternoon hours while fishing stakebeds and brushpiles in the 11 to 13 foot depths. While a lot of small fish are lingering in that depth range anglers can still manage to find some keeper mixed in with them.
Jigs tipped with minnows are working well as are small jigs in the white and chartreuse, chartreuse and red, and other variations of dull colors.
Bass anglers are finding a lot of aquatic vegetation to toss at, especially in the bays and island flats along the Tennessee River. The east side of the lake has more vegetation and a lot of minnows are relating to the structure and attracting bass as well.
Spinnerbaits and Texas rigged worms have produced as have floating worms and some shad colored jerk baits. Some surface lures have produced too such as Rebel's Pop R and Storm's Chugg-bug.
Carolina rigged worms and lizards, along with deep diving crankbaits and jig and pig combos have continued to produce fish from the main lake ledges.
Not many smallmouth have shown up in the creel of anglers lately but some folks are still night fishing and finding some bronzebacks taking spinnerbaits fished along rocky points and sloping gravel banks.
Stripes are still inconsistent with some jumps being reported. Scattered surface action was reported at the mouth of Leatherwood, White Oak, and near the stateline at Rushing Creek. Some fish were taken around the piers at Paris Landing Bridge as anglers tossed spoons and small spinners such as rooster tails and mepps.
Overall, action on white bass has been slow during the month of August.
Catfish were showing up along the main river bank this week as some anglers worked the deep channel. Baits such as nightcrawlers and hot dogs soaked in various commercial catfish scents were producing some action. Depths of 30 to 45 feet have delivered some strikes.
For The Lake Barkley Report
Click Here
Also check out our past:
Kentucky Lake Fishing Reports
Steve McCadams
Steve McCadams is one of the nation's best known Crappie Fishermen and a full time resident of Paris, Tennessee. Steve is also a professional hunting and fishing guide here in the Paris Landing area.