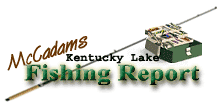 Brought to you by: Fishtale Lodge
Steve McCadams'
Kentucky Lake Fishing Report for:
August 22nd, 2003
Fishing this week has been under the spell of the doldrums days of summer. With temperatures climbing into the low 90ís and a dose of humidity thrown in, anglers have been restricting their outings to early morning and late afternoon.
Night fishing has increased for some anglers too. Both bass and crappie fishermen have been pursuing their favorite sport under the stars lately.
Some bass have been taking spinnerbaits cast along rip-rap and sloping gravel banks near the main river channel.
During daylight hours anglers have found some decent fish along the ledges of main lake sandbars. Tossing a Texas and Carolina rigged worm has worked well lately. And, the big deep diving crankbaits have also appealed.
Worm colors producing best have been green pumpkin-pepper, red shad, and blue with pearl-blue tail.
Meanwhile, lake levels continue to fall slowly. TVA indicates lake stages this weekend will be in the 357 range at both Kentucky Dam and New Johnsonville.
Surface temperatures have warmed into the 85 to 88 degree range. Watercolor is relatively clear throughout the reservoir.
Crappie continue to bite but have moved off the ledge toward the deeper sides. Depths of 18 to 25 feet have produced this week with a few fish lingering in the 14-foot zones where some brush piles or stakebeds reside near deeper water.
Live minnows are working well as night fishermen work them vertically beneath floating lights and lanterns where shad accumulate. Daytime anglers are working minnows on double-hook bottom bumping rigs around deep stumps. And, some anglers are still tipped jigs with minnows and finding fish too.
Catfish action has been fair along the river channel. Several good fish were taken this week in 18 to 25 foot depths. Nightcrawlers, leeches, and liver have worked well. A few anglers are using catalpa worms too.
White bass (stripes) have improved a little but consistent action in the jumps has not been the case. Anglers are not seeing the usual schools of shad meandering the open waters on calm days. Thatís needed to entice the schools of white base to bust the surface and scatter their prey.
A few anglers are trolling but sauger are still scattered. Several rockfish in the 11 to 13-inch range are still showing up.
Hopefully, the white bass will make a showing in the weeks ahead.
For The Lake Barkley Report
Click Here
Also check out our past:
Kentucky Lake Fishing Reports
Steve McCadams
Steve McCadams is one of the nation's best known Crappie fishermen and a full time resident of Paris Tennessee. Steve is also a professional hunting and fishing guide here in the Paris Landing area.