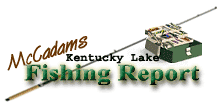 Brought to you by: Fishtale Lodge
August 19, 2010


Lake levels continue to fall slowly this week as TVA continues its drawdown schedule. Elevation at Kentucky Dam this weekend will be in the 357.5 range. Upstream at New Johnsonville readings will be in the 357.3 range.
Surface temps are in the 88 to 91 degree range. Water color is clear in most main lake areas.
Bass fishing is holding up pretty good for anglers working the main lake ledges but some fish are still relating to shallow structure and docks where minnows are located.
A few white bass were showing up along the river channel but not many jumps are there. Seems just a few white bass busting here and there with no real feeding frenzies observed.
Crappie have been fair and mostly coming from main lake ledges in the 17 to 22 foot zone. A few smaller fish were holding around stake beds in the 13 to 15 foot range. Tipping jigs with minnows has been working as have just live minnows.
Some catfish were hitting around Paris Landing bridge piers and along the main river channel in depths of 30 to 35 feet.

Also check out our past:
Kentucky Lake Fishing Reports

Steve McCadams is one of the nation's best known Crappie Fishermen and a full time resident of Paris, Tennessee. Steve is also a professional hunting and fishing guide here in the Paris Landing area.