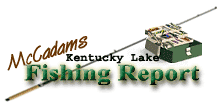 Brought to you by: Fishtale Lodge
Steve McCadams'
Kentucky Lake Fishing Report for:
August 19th, 2005
This week's fishing report continues to see warm surface temperatures and falling lake levels. Surface temperatures are still in the 88 to 91 degree range.
Kentucky Lake levels are slightly lower than last week at this time with readings of 358.8 forecasted for New Johnsonville this weekend. Kentucky Dam is expected to be slightly higher with a reading of 358.9.
Watercolor remains clear in most areas with some stain around grassbeds when wind is present.
The lower lake levels are beginning to show more aquatic vegetation around shorelines and islands along the main Tennessee River. Most of the grass is pondweed and spiny leaf naiad but not much Eurasian milfoil is present.
Bass anglers are finding some fish on the edges of the grass taking worms and spinnerbaits. Some topwater action is also showing up in the late afternoon when shad are present.
Some of the larger bass stringers are still coming from main lake ledges where anglers are tossing jig and pig combos, big crankbaits, and Carolina and Texas rigged worms.
Night fishing has been decent for some anglers who are casting spinnerbaits along rock banks. A few smallmouth are showing up as well.
A few scattered jumps of white bass are also showing up along the main lake areas but anglers are not finding many feeding frenzies like those of yesteryear. There was a time when August meant consistent action for schools of white bass in the jumps.
Night fishing continues to produce some white bass however, as anglers are dodging the heat and trying their luck beneath the stars. Most anglers are using live minnows in a tightline presentation beneath floating lights while the boat is anchored over drop-offs.
Crappie action has been slow for most anglers who continue to catch a lot of small fish on main lake ledges in the 18 to 22 foot range. Watch for that to change in a couple of weeks, however.
Catfishing has been fair with some improvement over last week, due in part to the presence of current in the main river channel.
Baits of choice have been chicken liver, nightcrawlers, shiner minnows, goldfish, and some catalpa worms. Depths of 25 to 35 feet have been paying off.
For The Lake Barkley Report
Click Here
Also check out our past:
Kentucky Lake Fishing Reports
Steve McCadams
Steve McCadams is one of the nation's best known Crappie Fishermen and a full time resident of Paris, Tennessee. Steve is also a professional hunting and fishing guide here in the Paris Landing area.