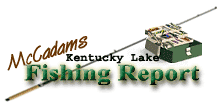 Brought to you by:





August 18, 2011


LAKE LEVELS FALL SLOWLY AS SUMMER WEATHER RETURNS


After a cool snap that descended on the Kentucky Lake area for a week or so anglers almost felt like fall slipped in the door. It has been nice out there lately as lower humidity, light winds and some cloudy days teamed up to produce a welcomed change to the dog days of summer.

A few cool nights set the stage for some nice mornings earlier this week and anglers responded as activity increased on the lake from bass, crappie, and few catfish anglers.

Temperatures this week were some eight to ten degrees cooler than the previous week and that had an influence on surface temperatures which fell a few degrees. Readings this week were in the 84 to 87 degree range. Water color remains clear.

Lake levels are down some two feet from the summer pool mark since TVA began its winter drawdown back on July 1. Observed elevation at Kentucky Dam was in the 357.2 range. Upstream at New Johnsonville elevation is expected to be 357 as the weekend approaches.

A slow but gradual fall in lake levels will continue throughout the summer and early fall as TVAís curve will see the reservoir stabilize once it reaches the 355 range in the months ahead.

Bass activity seemed sluggish this week as a few fish were taken on main lake ledges but both numbers and weights seemed to fall off some from the previous week.

Still, a few fish were taking jig and craw combos, Texas rigged worms, Carolina rigged lizards, worms, and craws and some deep diving crankbaits. The fish are still lingering around main lake drop-offs but seemed reluctant to chase a crankbait.

Most of the fish were opting for Texas rigged worms in the nine to ten inch length such as Berkleyís Power Bait worms in such colors as plum, and blue fleck. A few fish showed interest in pumpkin-pepper with a chartreuse tail.

Carolina rigs were producing some fish that showed interest in Zoomís Baby Brush Hog in green pumpkin pepper, red shad, and bluegill colors.

Although bass were finicky this week as to shad variations of crankbaits that could swing back quickly as the fish are usually running threadfin and herring shad this time of year along the ledges. The fish can turn on quickly, especially if baitfish and current combine during the day in the right spot.

Crappie were slow this week with an occasional fish taken in 9 to 14 foot depths. Numbers were down as it was a one-here and one-there pattern although a decent size fish was showing up at times. Several smaller fish were showing up in increased numbers in both midrange stakebeds and on deeper ledges in 18 to 24 feet but finding a concentration of keeper fish was not in the cards.

Fish showed a preference for live minnows over jigs or jigs tipped with minnows this week. Itís not unusual for live bait to produce better during hot weather periods and that seemed to be the case lately as shiner minnows were the bait of choice.

A few bluegill were lingering around deeper brushpiles and beneath the Paris Landing Bridge piers where shade and current were attracting them. Very few mayfly hatches have shown up this summer and that usually attracts bluegill but it hasnít been happening.

Some boats were trolling for white bass along the main river sandbars and catching a few but no schools of surface activity were showing up. A few anglers were casting Hopkins spoons and tossing Rooster Tails in attempts to find some deeper white bass but action was slow overall.

Catfish were holding up well around the bridge piers and along the main river bank where depths of 20 to 35 feet were giving up some good ones at times when current was present. A few catfish were showing up in the 15 to 20 foot depth range as well.

Although it appears warmer weather is creeping back into the fishing scene anglers have enjoyed a nice reprieve this past week. Every day makes fall that much closer.


Also check out our past:
Kentucky Lake Fishing Reports

Steve McCadams is one of the nation's best known Crappie Fishermen and a full time resident of Paris, Tennessee. Steve is also a professional hunting and fishing guide here in the Paris Landing area.