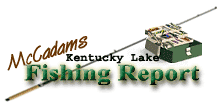 Brought to you by: Fishtale Lodge
Steve McCadams'
Kentucky Lake Fishing Report for:
August 17th, 2006
WHITE BASS EVADING SUMMER ANGLERS

White bass, referred to locally as stripes, have been playing hide and go seek with sportfishermen hoping to link up with the popular gamefish.
A few scattered jumps of white bass are showing up but not many anglers have found the schools staying on the surface for extended periods. Most of the reports indicate the fish are up and down quickly, making it tough to locate consistent activity.
August is usually prime time for surface activity from white bass but action thus far has been unpredictable. A few boats have scored on night time outings fishing beneath floating lights that attracted schools of baitfish.
Some anglers have been trolling deep diving crankbaits or inline spinners and locating white bass along main lake sandbars.
Those hot and humid days often deliver a calm lake and that makes it easier to hear and see the feeding frenzies.
There's still a chance for some good white bass activity in the weeks ahead so keep your fingers crossed.
From the fishing scene comes continued success stories from bass anglers braving the heat. Several anglers continue to find fish hitting in both deep and shallow water areas.
As lake levels fall slowly several areas of aquatic vegetation are beginning to expose themselves, offering a haven for bait fish and bass where anglers are tossing worms, spinnerbaits, floating worms, shallow running crankbaits, and Carolina rigged worms.
Main lake ledges are still holding bass too and some anglers have been finding fish on sandbars near the main river when current is present.
Crappie anglers have found mediocre success while working main lake ledges. Some fish are coming from the deep sides of drop-offs in depths of 18 to 25 feet. Live minnows have produced some fish as anglers bump bottom with double hook rigs.
Some scattered crappie remain in the deeper stakebeds and brushpiles where the 11 to 13 foot zones have given up some fish. Working small jigs around the submerged manmade structure has produced some fish as have live minnows added to jigheads.
Catfish action has been somewhat slow lately as not much action has come from the main river bank where summer patterns normally find the big fish laying in deep holes and near the mouths of submerged creeks empting into the main river channel.
For The Lake Barkley Report
Click Here
Also check out our past:
Kentucky Lake Fishing Reports
Steve McCadams
Steve McCadams is one of the nation's best known Crappie Fishermen and a full time resident of Paris, Tennessee. Steve is also a professional hunting and fishing guide here in the Paris Landing area.