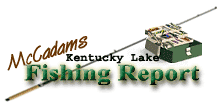 Brought to you by: Fishtale Lodge
Steve McCadams'
Kentucky Lake Fishing Report for:
August 15th, 2003
Kentucky Lake has been falling fast this week after seeing above average lake levels for several weeks.
TVA predicts lake levels at Kentucky Dam and New Johnsonville to be in the 357.1 range this weekend, which is down over a foot from last week at this time.
Anglers are finding crappie action well worth the trip as the summer action has been good for several weeks. While a lot of the fish have been taken in the midrange depths of 13 to 15 feet, look for them to drop back deeper this next week due to falling lake levels.
This summer has been a bit unusual as lake levels have been above normal due to an abundance of rain. Added to that has been some cloudy days with temperatures a few degrees cooler than the normal highs. As a result, the crappie have found a comfort zone in the midrange depths whereas they would normally be in 20 to 25 foot zones.
Brushpiles and stakebeds are still producing fish as anglers continue to tip jigs with minnow for the most success.
Expect some increase in activity next week on the deep sides of the ledges. The 20 to 25 foot zones will likely see some improvement due to falling lake levels and warm weather.
Surface temperatures were in the 83 to 85 degree range this week. Watercolor is still clear in the main lake and most of the stained water that was back in the bays has moved out due to the falling lake stages.
Bass action is fair with small fish still holding around visible structure in the backs of bays and along steep bank shorelines. The larger fish have pulled back to the main lake ledges where crankbaits, Texas and Carolina rigged worms and lizards are producing. The jig and pork combo is worth tossing too.
Look for some increase in activity on the main lake ledges this weekend as current is present and likely pulling some of the larger bass toward deep water venues.
Catfish action has picked up some. The increased current in the main Tennessee River is likely the reason. It seems the baitfish move around more and that puts the cats on the prowl.
Depths of 20 to 40 feet were producing as anglers work nightcrawlers, catalpa worms, liver, and leeches along the bottom near where the overbank drops off into the main deep channel.
Some white bass are showing up but overall action is slow. Not too much activity in the jumps just yet. Sauger remain slow too.
Several rockfish are showing up but most of them are in the 11 to 13-inch range. There's are more smaller rockfish in the Paris Landing area than in times past. Kentucky Fish and Wildlife has reportedly stocked fingerlings in the tailrace of both Kentucky and Barkley Dams the last few years. And, KFW has also stocked the Ohio River for years.
There's either a massive number entering the main reservoir or we have had some natural spawning take place. Whether or not these eating machines have a detrimental effect on the shad population or the overall crappie and bass fishery remains to be seen.
Generally speaking, lakes with increased rockfish populations have decreased crappie and bass fisheries.
For The Lake Barkley Report
Click Here
Also check out our past:
Kentucky Lake Fishing Reports
Steve McCadams
Steve McCadams is one of the nation's best known Crappie fishermen and a full time resident of Paris Tennessee. Steve is also a professional hunting and fishing guide here in the Paris Landing area.