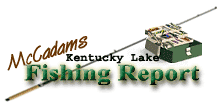 Brought to you by: Fishtale Lodge
Steve McCadams'
Kentucky Lake Fishing Report for:
August 13th, 2004
COOLER WEATHER WELCOMED BY ALL OUTDOORSMEN
Cooler conditions have been welcomed with open arms by Kentucky Lake anglers this week.
Most of us know thereís a lot of summer left and those hot and humid days will return but the recent reprieve has been well accepted by both the fish and the fishermen.
Surface temperatures have dropped a few degrees and that seemed to stimulate movement for shallow water bass while crappie anglers are seeing positive results too. Readings lately have been in the 82-85 degree range but may fall lower due to cool nights.
TVA has been drawing Kentucky Lake down this week as a gradual decline in lake stages is underway. Since Monday the lake has fallen several inches and readings are expected to be 357.1 at New Johnsonville this weekend. Downstream at Kentucky Dam the elevation will be 357.3.
Although north winds have been part of the cool front this past week, a few bass anglers have capitalized on the fall-like conditions to find shallow action. Texas rigged worms and jig and pig combos have produced, as have shallow running crankbaits and spinnerbaits.
Some visible stickups, along with boathouses and roadbeds or bridge piers have given up some decent largemouth. And, there a little grass exposed in secondary bays too.
A few jerk baits have produced too, such as flukes and floating worms.
Not much to report in the white bass department. Sightings of the white bass have been rare this summer and it appears the fish are just not there. Some anglers feel the increased numbers of stripers (rock fish) may be taking its toll. It could be a down cycle or the result of several weak year classes but the white bass action is sure not what it used to be on Kentucky Lake as August is normally prime time.
Crappie action has improved recently as the cooler conditions have stimulated the summer bite. Thereís a lot of small fish out there but you can find some keepers mixed in with them.
Depths of 17 to 19 feet were producing on main lake ledges this week as anglers tight lined live minnow rigs and worked stumps.
There appears to be some fish moving up, however, as stakebeds and brushpiles in the 12 to 14 foot zone were beginning to appeal to crappie. Itís likely that shad have moved up lately so the bass and crappie arenít far behind.
Catfish are still on the prowl too and hefty stringers have been taken in the Paris Landing area this week as anglers work the edge of the Tennessee Riverís channel. Depths of 20 to 40 feet have given up some good yellows, channels, and flatheads lately as current has been a factor working in favor of anglers.
Baits of choice have been chicken liver, cut shad, nightcrawlers, catalpa worms, and leeches. Some jug and trotline fishermen are still using those hotdog dipped in garlic powder too.
With cooler weather upon us, itís a great time to make the best of the nice fishing conditions.
For The Lake Barkley Report
Click Here
Also check out our past:
Kentucky Lake Fishing Reports
Steve McCadams
Steve McCadams is one of the nation's best known Crappie Fishermen and a full time resident of Paris, Tennessee. Steve is also a professional hunting and fishing guide here in the Paris Landing area.