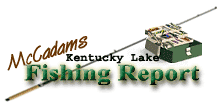 Brought to you by: Fishtale Lodge
August 12, 2010


From the Kentucky Lake fishing scene comes a few good reports from bass fishermen who are still finding success on the drop-offs and main lake sandbars.
A few crappie were being caught on the deep sides of ledges this week with most taken in the early morning or late afternoon hours. Seems the crappie are somewhat reluctant to bite once the sun gets high as activity is curtailed.
Bottom bouncing rigs armed with live minnows have been the most productive presentations. Depths of 17 to 20 feet have accounted for most of the activity with some strays taken over deeper stakebeds in the 12 to 14 foot range.
Bass were schooling on some main lake ledges this week, chasing shad that seem to be abundant in places. Even at midday some fish were busting topwater and in hot pursuit of threadfin shad that roam in big numbers near the surface when calm water is present.
The feeding frenzies occur when bass team up and push the baitfish from deep sides of the drop-offs toward shallow areas. The bait fish make a last ditch effort and head toward the surface in a feeble attempt to out swim their predators.
For the bass itís like lions in hot pursuit who smell blood; the aggressive feeding spree spells success for angler within casting distance as most shad imitation lures or even Texas and Carolina rigged worms or lizards will trigger a strike.
Tossing a crankbaits or swim bait works very well. And hopping sliver spoons or Rattle Traps is hard to beat.
With current present now present on most days by midday, those main lake ledges will harbor fish. Despite the heat the bass bite has held up.
TVA continues its slow drawdown and lake levels are down a few inches from last week at this time but pretty much on schedule.
Projections for the weekend indicate lake levels will be in the 357.1 range at New Johnsonville. Elevation at Kentucky Dam is expected to be in the 357.4 range.
Surface temps are starting out around 88 degrees in the mornings and climbing to 92 at midday. Water color is relatively clear across most of the reservoir as not much rain has entered the watershed.
A few catfish were taken this week around bridge piers at Paris Landing when current was present. The catfish were lingering around the 25 to 35 foot depths along the main riverbank. Night crawlers, shad guts, and chicken liver were popular baits.
Still not much happening as to white bass activity. Very few jumps have been sighted at a time when the white bass should be running and surfacing.

Also check out our past:
Kentucky Lake Fishing Reports

Steve McCadams is one of the nation's best known Crappie Fishermen and a full time resident of Paris, Tennessee. Steve is also a professional hunting and fishing guide here in the Paris Landing area.