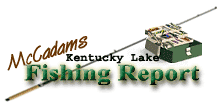 Brought to you by: Fishtale Lodge
Steve McCadams'
Kentucky Lake Fishing Report for:
August 11th, 2006
This week's fishing scene continues to be at the mercy of hot and humid weather. The dog days of summer have lingered and most of the activity has been limited to early morning and late afternoon outings.
Kentucky Lake continues to fall slowly on the TVA curve for winter drawdown. Elevation will be 357.3 going into the weekend at Kentucky Dam. Upstream at New Johnsonville lake levels will be in the 357.2 range.
Water color is somewhat stained in the upper Big Sandy area but relatively clear elsewhere in the Paris Landing sector.
Surface temperatures remain in the 89 to 91 degree range as there haven't been many cool nights this week. Everyone is hoping for a break in the hot weather.
Bass anglers continue to find fish in spite of the heat. In fact, several fish have been taken by anglers working those exposed grassbeds along river islands and the backs of large bays on the east side of the reservoir. A lot of minnows are using the aquatic vegetation, which has attracted bass and given them a canopy of shad on the sunny days.
Fishing spinnerbaits, and working Texas rigged worms has paid off as have some topwater jerk baits and floating fluke style baits and tubes.
Some fish are still coming from make lake ledges too but current is a factor. Seems the most product days for anglers fishing the ledges have been those when current and some wind is present.
Working Carolina rigged worms and lizards has produced some fish on the ledges as have the popular big deep diving crankbaits and Texas rigged worms or jig and pig combinations.
A few scattered jumps of white bass have been seen on the calm days. Most of the activity has been along the main Tennessee River but some were busting the surface up near Lashlee Spring on the Big Sandy earlier this week.
Other popular locations have been Piney, Rushing Creek, and down south toward Leatherwood and White Oak.
Rooster tails and chrome colored spoons have been paying off best for white bass.
Crappie action has slowed lately, falling victim to the hot weather. Seems the fish are just sluggish but some anglers have landed a few fish on the main lake ledges and also during might fishing trips beneath the lights.
Catfish action has been on the slow side too as not many anglers are testing the water like they have in summers past. There has been some current in the main river but just not many catfishermen braving the heat.
For The Lake Barkley Report
Click Here
Also check out our past:
Kentucky Lake Fishing Reports
Steve McCadams
Steve McCadams is one of the nation's best known Crappie Fishermen and a full time resident of Paris, Tennessee. Steve is also a professional hunting and fishing guide here in the Paris Landing area.