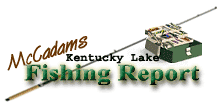 Brought to you by: Fishtale Lodge
Steve McCadams'
Kentucky Lake Fishing Report for:
August 1st, 2003
This week's fishing scene is a good one for bass and crappie anglers as Kentucky Lake continues to give up some dandy stringers right here in the middle of summer.
Crappie anglers are having good luck as a lot of fish are holding in the 12 to 14 foot zones. Action has been good in midrange stump flats and manmade stake beds and brush piles.
Several cloudy days offered comfortable conditions for both anglers and fish this past week. A light breeze further added to the enjoyment.
Jigs are producing but the crappie seem to prefer jigs tipped with minnows or live minnows themselves. Some anglers are tightlining the minnows down in the structure and having good luck with others are casting slip-bobber rigs in much the same manner as a late spring outing.
Apparently the shad are staying in the midrange depths and right there with them are the crappie.
Surface temperatures are staying in the 82 to 84 degree range. Some dingy water is present in the upper Big Sandy due to recent rains and runoff. Elsewhere the lake is relatively clear.
Observed lake elevation at New Johnsonville is expected to be around 357.6 this weekend. Downstream at Kentucky Dam TVA indicates the reading will be around 357.9. The lake has been falling slowly all week.
Bass fishing has been good as anglers continue to find good fish on the main lake ledges. Baits of choice have been Carolina rigged worms and lizards, along with Zoom's Brush Hog. Texas rigged worms are working good too.
Some smaller fish are relating to shallow shoreline tree laps and grassbeds but most of the buck bushes and willows trees that were holding fish last week are now too shallow.
Catfish are hitting good with action coming from the main riverbank in 25 to 35 foot zones. A few fish were taken in the 15 to 20 foot areas up around Danville bridge area and up to White Oak.
Nightcrawlers and catalpa worms are working well but some anglers are using leeches and liver.
White bass action hasn't been too good but look for that to improve in the weeks ahead. The lower lake levels will make it easier for the white bass to push the baitfish over shallow sandbars where surface action can be seen.
For The Lake Barkley Report
Click Here
Also check out our past:
Kentucky Lake Fishing Reports
Steve McCadams
Steve McCadams is one of the nation's best known Crappie fishermen and a full time resident of Paris Tennessee. Steve is also a professional hunting and fishing guide here in the Paris Landing area.